Senate Begins Fresh Process For Amending 1999 Constitution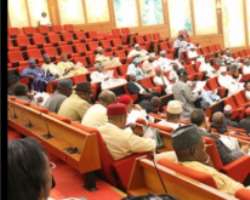 SAN FRANCISCO, December 23, (THEWILL) – The Upper Chamber of the National Assembly yesterday constituted a 38-member committee to begin a fresh process for the amendment of the 1999 Nigerian constitution.
THEWILL recalls that effort geared towards amending the 1999 Constitution began in the 5th Assembly of the 4th Republic, during President Olusegun Obasanjo's administration. The effort however failed on May 16, 2006 owing to an alleged plot by the then President to smuggle third term into it.
But a breakthrough was seemingly recorded by the 7th Assembly with the passage of the Fourth Alteration Bill by both chambers of the parliament after it went round the 360 federal constituencies across the country to conduct public hearings on the constitution amendment which was attended by representatives of the Federal Government.
The Constitution Amendment Bill was then forwarded to former President Goodluck Jonathan, who after some time returned same to the National Assembly without his assent. He based his decision not to append his signature on the usurpation of presidential powers and constitutional breaches in the process of the amendment.
But announcing the kickstarting of a new process at plenary in Abuja on Tuesday, Senate President, Bukola Saraki said the committee, which would be headed by Deputy President of the Senate, Ike Ekweremadu, would gather facts from stakeholders across the country as part of the process.
He called on members of the committee to concentrate on issues that would de-emphasise recurrent expenditure, adding that "With the composition of the committee, the senate has set the stage for the activities leading to the delivery of better governance to our people."
Stressing that the eighth senate would make amendment to the constitution a priority, Saraki said: "The work already carried out by the seventh senate has made the job of the new committee easier."