Mosun Filani, Hubby Celebrate With Kids At Osogbo (Photos)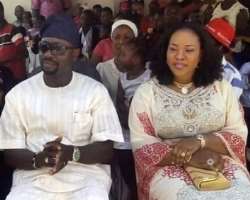 After she took a leave to get married and also delivered her 2 kids, Yoruba actress, Mosun Filani, has been off the scene, and this has made a lot of her fans to be clamouring for her coming back into action.
The good news now is that the beautiful actress is back in the industry. Mosun didn't just resurface but bounced back with a new fantastic movie titled, 'Eri Ife'.
Recently, the actress and her husband were guests at the Rave Fm Christmas party with the children in Oshogbo, Osun state.
Looking stunning in her outfit, the actress and her husband showed support and love to the kids as they joined them in sharing in the fun of the festive season.