Securing Anambra State: Commissioner Of Police, H. H. Karma To Appear On Anambra Scorecard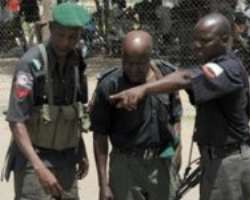 Being the Safest State in Nigeria is a laudable Success achieved amidst many Challenges. In less than 2 years, the administration of Chief Willie Obiano has propelled Anambra State into becoming the first choice investment destination and the most peaceful abode in our dear nation... With huge influx of humans and investments!
Join the discussion on Anambra Scorecard by 2pm today, Wednesday, December 23, 2015.
Having received unequaled support from Gov Obiano by way of Patrol Trucks, Armoured Personnel Carriers, Command & Control Equipment, Smart Security Cars and most recently Helicopter for aerial surveillance... The security agencies in Anambra State remain battle ready to ensure zero tolerance for any form of crime.
Today's discussion shall focus on the Challenges and Successes in
Securing Anambra State...
And our guest is H. H. Karma (Commissioner of Police, Anambra State).
Click here now to join Anambra Square ( http://www.fb.com/groups/AnambraSquare ).
Don't miss out... You have the right to know!
Ifeanyi ANIAGOH
Senior Special Assistant to Gov Willie Obiano on Social Media