Dwindling Allocation To Delta State Will Not Deter Us, Says Makinde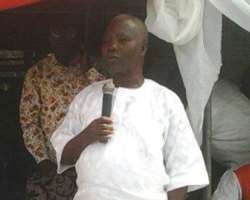 Olorogun Williams Makinde
The dwindling allocation to states occasioned by the fall in oil price would not discourage the Delta State Oil Producing Areas Development Commission (DESOPADEC) from carrying out its core objectives and giving a face lift to oil producing communities of the state, the Managing Director of the Commission, Olorogun Williams Makinde has said.
Olorogun Makinde reiterated that "the falling price of oil will not make DESOPADEC not to perform, rather than complaining you have to look for somewhere to deploy your meagre resources and in such that you have to get the best economic benefits".
The DESOPADEC boss stated this Tuesday at a meeting with journalists drawn from the three senatorial districts of the state in Sapele, the administrative headquarter of Sapele local government area of the state.
He said economic benefits can only come from human capital development by training and equipping of unemployed youths to start a living, disclosing that the Commission would spent a lot of time on human capital development in 2016.
According to him, "DESOPADEC development will be 40 per cent human capital development and 60 per cent infrastructure and part of the human capital development will be involved in the training of journalists" pointing out that the training would take place in 2016 and is meant to take away junk journalism whether photo, print or broadcast journalism for optimum productivity in the profession.
He revealed that in 2016 the Commission would also take its time on girl-child education, "we have about three programmes that will kick off in January. One will involve unemployed female graduates and it will start in January, and another will involve unemployed male graduates that want to do some form of entrepreneurship which will also start around March".
He expressed hope that the skills acquisition centre in Afuzene and Bomadi would hopefully kick start in April, "I know that the price of oil has dropped before I accepted to be MD, so the fallen prices of oil is not an excuse for somebody not to perform", Makinde restated.
He stated that the Commission also has programmes for those who have unfortunately found themselves in the prisons, adding that an inmate who just got his freedom has being empowered and has since started producing soap among other things, promising to show case the products of Sapele prison inmates in subsequent meetings.
He said the gesture was to tell inmates that even while in prison custody they could acquire training/skills so they could become somebody in life when they are reincorporated back into the society.
He lamented media reports that the Commission spent N50 million on hosting party for staff, "the last party we spent 12 million, the hall alone, we spent N4.5 million, to host 2950 staff you know how much is the cost but before we finished the party, there was already in the media that we spent N50 million and it doesn't make sense publishing what is false", noting that he gets text messages which he interpret as blackmail.
He took the medium to call on media practitioners to always verify their reports from the office, "if you need information come to the office, you will get the information. If we cannot give it to you, they will also explain why it cannot be given to you", he said.