Again, Ekweremadu heads new Senate committee for amendment of 1999 Constitution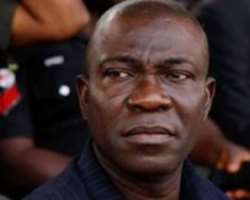 THE Senate on Tuesday raised a new  committee for the amendment of the 1999 constitution.
The new committee, which has been asked to build on the work done by similar committee in the 7th Senate, was announced by the Senate president Bukola Saraki on Tuesday.
Deputy Senate President, Senator Ike Ekweremadu retains his position as Chairman of the new committee. Ekweremadu was the chairman of the committee set up by former Senate President, David Mark, in the Seventh Senate.
Saraki, said Ekweremadu will lead 37 other senators to carry out the exercise.
According to Saraki, the eighth Senate has made the amendments of the constitution, its major deliverable.
"With the composition of the committee, the Senate had set the stage for the activities leading to the delivery to our people. The work already carried out by the Seventh Senate had made the jobs of the new committee, easier," he said.
Saraki wants a cost-effective work by the committee, urging the members to cut off traveling across the country for facts gathering and not to dwell on issues that  had been substantially agreed upon by the last committee.