Reps quiz Buratai over Army-Shiite clash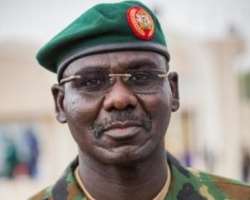 Members of the House of Representatives panel on Tuesday held a closed-door meeting with the Chief of Army Staff, Lt. Gen. Tukur Buratai, over Army-Shiite clash about two weeks ago in Zaria.
Chairman of the committee, Hon. Aminu Sani Jaji (APC, Zamfara) told some journalists after the meeting that they had to engage the army chief in order to know what actually transpired on that fateful day.
He said they earlier met with the Director-General of the Department of State Security, Lawal Daura, last week on the matter and that they planned to meet with the Inspector General of Police Solomon Arase before or after Christmas.
He said they had made attempts to meet with leaders of the sect but to no avail as they could not trace any of them, saying they even sent a delegation of members to Zaria for that purpose but in vain.
He, however, said they would find a way of reaching the sect leaders in order to meet them soon to hear their own side of the story, adding that their meeting with Buratai would continue as yesterday's parley was the first in a series of the meetings to come.
Sponsored Advert:
VACANCY! VACANCY!! VACANCY!!!
Job Position: Chief Accountant at an Agro-Allied Conglomerate in Delta State
Click here for details
He said their mission was to investigate the matter and get back to the House on the matter, which they would do in the next two or three weeks.