Oshiomhole: 2016 Will Be Tough, But…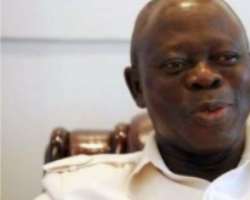 BEVERLY HILLS, December 22, (THEWILL) – Edo State Governor Adams Oshiomhole Tuesday said the 2016 fiscal year would be tough going by the crisis in the economy triggered by a sharp decline in the national revenue by more than 55 percent.
Oshiomhole, who made the remark during a meeting with traditional rulers from Edo Central Senatorial District, was however optimistic that his government would finish strong in spite of the economic indicators.
According to him, it is clear from all indicators that the coming year is likely going to be very tough with the continued decline in revenue and rising expectation on the part of our people, and with many state governments, local governments, and perhaps, even some federal agencies defaulting in the payment of salaries and allowances.
"The level of strike activities in the economy is going to be very high and of course, the level of unemployment is already unacceptably high and it could get even higher if we are not careful."
"So, we have a lot of challenges ahead, but I am very confident that the President is determined and has the political will to do the needful and ensure the country remains stable and safe. The rest of us as state governments have responsibilities, working with the local governments and your good selves, the traditional rulers, to ensure that there is peace," he said.
The governor, who assured the royal fathers of his commitment to the completion of the Emu – Ohordua Road, and the construction of a bridge to link the two communities, noted that "the whole idea is to integrate the communities by facilitating movement between the communities."