Buhari Presents N6.08trn Budget For 2016, Says Petrol To Sell At N87 'for Now'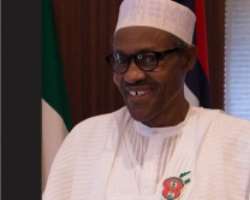 SAN FRANCISCO, December 22, (THEWILL) – President Muhammadu Buhari on Tuesday presented a budget of N6.08 trillion for 2016 to a joint session of the National Assembly, maintaining that the oil benchmark would have to be $38 per oil barrel.
Capital expenditure for the next year budget rose from N557 billion to N1.8 trillion, which is 30 percent of the total budget, while the exchange rate of the Naira against the Dollar was pegged at N190.
Stating that about 2.1 trillion of the budget will be financed through foreign and domestic loans, the President assured that the loans will be used for capital projects.
While apologizing to Nigerians for the lingering fuel scarcity which he described as the "unfortunate result of speculators and resistance to change", Buhari said the price would remain at N87 "for now" adding that "Indeed tough decisions must be made but this does not mean that we would increase the level of pains being felt by Nigerians."
The occasion, which was moderated by Senate President Bukola Saraki, who is the chairman of the joint session of the National Assembly, had top government functionaries in attendance, including the Vice President, Yemi Osinbajo, the Chief Justice of Nigeria, Justice Mahmud Mohammed and the Speaker of the House of Representative, Hon. Yakubu Dogara.
Buhari used the occasion to announce that his government would implement social welfare programmes to alleviate the suffering of "the poorest of the poor," and that 500,000 graduate teachers would be employed to teach in primary schools across the country.
While taking the Vote of Thanks at the end of the presentation, Speaker Dogara assured the President that the National Assembly would pass the budget in good time, adding that the lawmakers would work towards prescribing a 12-month financial year to enhance the full implementation of the budget.
His words, "The national assembly may need to prescribe another date as the financial year in line with provisions of section 3 (18) of the constitution whenever the budget is not passed before January 1 of any given year.
"The letter and spirit of the constitution requires that the financial shall not be less than 12 months. The date of the commencement of the financial year may change, but not the 12-month period as prescribed in the constitution.
"Consequently, if this proposal is accepted it may become imperative that the 2016 budget may commence 12 months from the day it is signed into law by Mr President. The budget will only have a realistic chance of implementation when the executive have 12 uninterrupted months to executive it."
"In the spirit of change that has come to the legislature, we promise Nigerians to hold Mr President to every word and provisions of the budget when passed and assented to."