Why Okowa Appointed Aniagwu As CPS, Usurps Colleagues Powers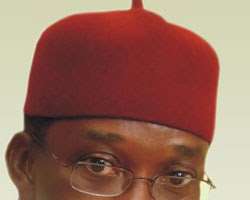 Facts emerged on why Senator (Dr) Ifeanyi Okwa of Delta State appointed Mr. Charles Ehiedu Aniagwu, who happens to come from same senatorial district with him (Okowa) as his Chief Press Secretary (CPS).
Before Aniagwu was appointed as CPS to Governor Okowa, he was covering the National Assembly (NASS) for the African Independent Television (AIT).
It was gathered that Aniagwu allegedly supported Okowa with over N300 million during the governorship race in the state which led to him being drafted to the state and subsequently alleviated to the present position he occupies in the Okowa's administration.
It was learnt that the duo have known each other at the NASS while they were carrying out their duties as a senator and a reporter respectively but that the later invested in the course of the former when he heard that he (Okowa) was going for the governorship tussle in his state.
Meanwhile, there is rife that the CPS, Mr. Aniagwu has taken over the job of one of his colleague, Mr. Jackson Ekwugum, who is the Manager (Communication) or could be best described as the mouthpiece of the governor and also has the privilege of attending State Executive Council (SEC) meetings.
However, the reverse is the case as the act of the CPS has been read to his alleged N300 million support to the governor during the campaign season thereby reducing the Manager (Communication) to a mere office boy.
Our correspondent learnt that during Okowa's campaign, Mr. Ekwugum was the hand behind the camera who drew major programmes, made strategic plans for an hitch free campaign and quashed reports that would have evolved in the media that would have threw a blow on Okowa's image when some purported hired crowd of students went to cause havoc at his campaign office along Anwai road in the state capital for dumping them after one of Okowa's campaign at the Oshimili South Arcade in Asaba.
It would be recalled that Aniagwu came to the picture when Prince Victor Efeizomor, the SA media (print) to the governor was allegedly claiming to be the CPS to Okowa when Ekwugum, had already been appointed as Manager (Communication).
Our investigation revealed that the Commissioner for Information, Mr. Patrick Ukah was allegedly lobbying Aniagwu who purportedly has suddenly become too powerful in Okowa's government to ensure that the N150 million monthly subvention to his ministry was released by the governor but at press time, it was gathered that the N150 million has been reviewed to N13 million but is yet to be released to the ministry.