How we kidnapped Okonjo-Iweala's mother, by 27-year-old Nweke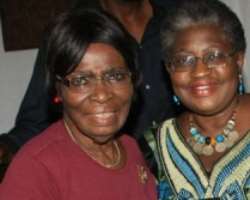 A 27-year-old man, Peter Nweke, on Monday admitted that his gang was paid N12 million ransom when they abducted Prof. Kamene Okonjo in 2013.
A statement from the police in Enugu State said Nweke, who hails from Umumba Ndiagu in Ezeagu Local Government Area of Enugu State, made the disclosure during interrogation.
The suspect said he was contacted by one Ifeanyi Chukwuemeka from Iselle Uku in Delta State, who linked him to one of the Okonjo's family members that helped them to perfect the kidnap.
He said Chukwuemeka disguised as a corps member seeking for assistance and entered the compound and made away with the mother of the former Minister of Finance, Dr. Ngozi Okonjo-Iweala.
Nweke also told the police that his gang abducted a pastor's wife and her friend as well as their driver in Ugwuoba, Oji River in Enugu State last October.
He said they demanded N4 million but got N1.12 million from the victim.
The statement, signed by the spokesman of the police in Enugu State, Ebere Amaraizu, said the anti-kidnap unit of the command arrested the suspect who escaped to Cotonou after the kidnap of Okonjo.
The statement said the suspect resurfaced in 2015 with another gang, which included Ifeanyi Chukwuemeka and Ali Salli from Adamawa State, both residing in Sabon Kashua, Asaba in Delta State.
The suspect said he had been in the kidnapping business for four years, adding that poverty drove him into the crime.
"I needed money to acquire AK-47 and pump action gun from one Musa from Adamawa at Sabon Kashua, Asaba through one of his cohorts, Ali Sali, to make the business easier," Nweke said.
The suspect, however, pleaded for forgiveness while advising the youth to shun crime as it was an ill wind that blew nobody good.
NAN.