Sepp Blatter And Michel Platini Banned From Football For Eight Years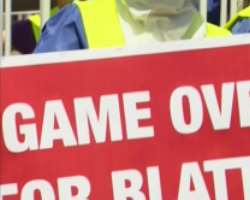 Sepp Blatter and Michel Platini have been banned from football for eight years.
The pair have been punished for the £1.35m FIFA president Blatter gave to Platini in February 2011 as a salary for unofficial work he undertook as a presidential adviser from 1999-2002.
Ethics judges ruled that Blatter broke FIFA Code of Ethics rules on conflicts of interest, breach of loyalty and offering gifts, and UEFA president Platini broke rules on conflict of interest and loyalty.
Blatter's spokesman has confirmed the 79-year-old will appeal and will take the case to the Court of Arbitration for Sport in Lausanne.
In a statement, FIFA's ethics committee said: "Mr Blatter, in his position as President of FIFA, authorised the payment to Mr Platini which had no legal basis in the written agreement signed between both officials on 25 August 1999.
"Neither in his written statement nor in his personal hearing was Mr Blatter able to demonstrate another legal basis for this payment. His assertion of an oral agreement was determined as not convincing and was rejected by the chamber."
The committee's statement on Platini went on to add: "Mr Platini failed to act with complete credibility and integrity, showing unawareness of the importance of his duties and concomitant obligations and responsibilities.
"His actions did not show commitment to an ethical attitude, failing to respect all applicable laws and regulations as well as FIFA's regulatory framework to the extent applicable to him and demonstrating an abusive execution of his position as Vice-President of FIFA and member of the FIFA Executive Committee."
The decision appears to spell the end of Platini's bid to replace Blatter as FIFA president – elections take place in February – but the Frenchman may also appeal.
The bans – from all football-related activities on a national and international level – come into force immediately, and in addition, Blatter has been fined £33,700 and Platini £54,000.
UEFA released a statement which read: "UEFA has taken note of the decision of the FIFA Ethics Committee to suspend Michel Platini for eight years from all football-related activities.
"Naturally, UEFA is extremely disappointed with this decision, which nevertheless is subject to appeal. Once again, UEFA supports Michel Platini's right to a due process and the opportunity to clear his name."
The ethics inquiry began in the wake of the Swiss attorney general's decision to open criminal proceedings against Blatter over the payment to Platini. The office is also investigating the award of the 2018 and 2022 World Cup finals to Russia and Qatar.
In the United States, prosecutors have indicted 27 current or former football officials, including eight former FIFA executive committee members, over allegations that they ran bribery schemes connected to the sale of television rights for football competitions. Twelve people and two sports marketing companies have been convicted.
SKYSPORTS