Life In Jungle No More Fun, Says Actress, Chioma Chukwuma Akpotha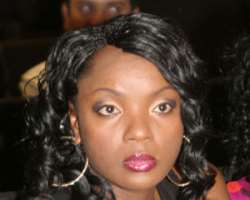 By Funsho Arogundare
Nollywood actress who is participating in the jungle competition, Gulder Ultimate Search: Celebrity Showdown, Chioma Chukwuma Akpotha, has said that life in the jungle is no longer fun, describing the adventure as becoming a serious game.
"The showdown is no fun any more. Instead, it has become a game. It is a huge challenge and what I'll describe as a wake-up call," Chioma stated.
Responding to a question from Genevieve Nnaji, the anchor person on how she has been able to cope so far without the usual paraphernalia of a celebrity lifestyle which she was used to, Chioma responded, "I am fast adapting," adding that she was seriously missing the glamorous lifestyle.
Meanwhile, contrary to reports in a section of the media, Fuji music star and one of the celebrities in the ongoing Celebrity Showdown, Abass Akande Obesere, has denied any rift with co-contestant, Daddy Showkey.
Speaking in an interview with us during the week, Obesere described the alleged squabble as unfounded and mere figment of the imagination of the authors, claiming that the Ghetto Soldier will be the last person he will quarrel with as they are best of friends even before the celebrities' showdown.
"I never quarrelled with Daddy Showkey or any other celebrity in the jungle," said Obesere. "Daddy Showkey and I have been friends for long. Though we lost contact for sometime, I was happy that Gulder Ultimate Search brought us together again. So, what could warrant problem between us? The report that we are quarrelling is not true," he declared.
According to Obesere, they remain the closest among the celebrities in the jungle.
"In fact, he wishes that if he does not win the competition, then I should and become the Ultimate Celebrity," Obesere told us.
On his experience so far in the jungle, Obesere said: "It has not been easy. I never expected that I could withstand all the hard tasks that we are subjected to in the jungle. When you think of the suffering and need for endurance in the camp, I'll tell you that it is a memorable experience. Look at the task where we were asked to run under severe heat in the noon, and I scaled through.
"In fact, one lesson I've learned about all these is that at any time, one should not throw away any chance to exercise."
R&B star Darey Art Alade, seen more as a 'Butter' among the celebrity contestants and one of the contestants that may not go very far in the search, despite his coming tops in an earlier tasks in the jungle, admitted that "adjusting to life in the jungle isn't for the faint-hearted."
WWW.NIGERIAFILMS.COM
Story by nollywoodgists.com