Wike Finally Exposes Himself As Responsible For Violence, Killings In Rivers State...Promises Death To INEC Officials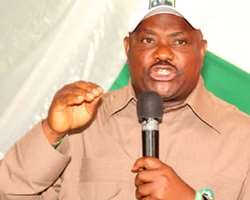 After months of pretence and living in denial, the Governor of Rivers State, Barr. Nyesom Wike, yesterday, in full glare of the world on live television, threw all caution to the wind when he confirmed that he was responsible for all the killing and maiming that characterised the 2015 elections as he openly told his PDP faithful to be ready to unleash violence in the forthcoming re-run elections in Rivers State.
The governor who addressed his supporters at the Port Harcourt International Airport on arrival from Abuja and later at another event in Port Harcourt, asked his members to not only return any slap given to them but do so in threefold, among other unprintable things.
His audience was shocked when he warned that Independent National Electoral Commission [INEC] officials sent to Rivers State who contemplates carrying out malpractices should first write their will as they will be put to instant death.
To all decent minds that saw or listened to the statements of the governor yesterday, Nyesom Wike's vituperations were the ranting of a drowning man or, better put, the ranting of a frustrated Internally Displaced Politician [IDP].
In all, Nyesom Wike, by his unguarded utterances yesterday unbecoming of even a councillor, confirmed that he is behind the violence and criminality that are strangulating Rivers State since he came to power.
For the APC, what happened yesterday was God's way of exposing a man who has been living in falsehood in order to fool the people and even God Himself. All the pretences about worshiping God by paying visits to churches and holding prayer sessions for the benefit of television cameras were mere attempts to mock God by Nyesom Wike but God cannot be mocked.
The APC wishes to remind Nyesom Wike that his unguarded diatribe against the Nigerian State, President Muhammadu Buhari and innocent Rivers people will not be taken lightly. While immunity protects a governor from prosecution, it does not protect him from investigation.
We call on the relevant authorities especially the INEC to hold Nyesom Wike responsible for any violence or harm that may be done to INEC personnel while on duty during the forthcoming re-run elections in Rivers State.
The APC believes that Nyesom Wike was merely talking tough to mask his inner despondency and misery arising from his recent legal losses. However, we are smart enough to take notice. We hear he is called High Tension, but High Tension without POWER is NOTHING.
Chris. Finebone
State Publicity Secretary
Fri, December 18, 2015