December 20, 2015

| Congo
International Court Hands Two Men Convicted Of War Crimes To Congo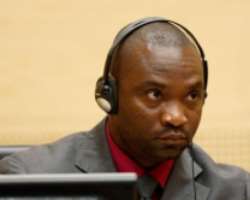 The International Criminal Court handed over two convicted war criminals to Congolese authorities on Saturday, the justice minister said, the first time it has entrusted enforcement of its sentences to a country.
Thomas Lubanga Dyilo and Germain Katanga will complete their sentences in Democratic Republic of Congo's central prison of Makala in Kinshasa for crimes committed during the brutal war in the central African country's northeastern region of Ituri.
Millions of people died in resource-rich eastern Congo's two regional wars between 1996 and 2003, mostly from hunger and disease, and the area is filled with dozens of armed groups.
"Thomas Lubanga Dyilo and Germain Katanga were handed over … in the morning to the qualified authorities," said Justice Minister Alexis Tambwe Mwamba in a statement read on public radio and television.
Both men had indicated a preference to serve the remainder of their sentences in Congo, the Court said in a statement.
Lubanga, who was found guilty of recruiting child soldiers, was sentenced in 2012 to a 14-year sentence including time already served. He is due for release in five years.
Katanga, who was convicted last year for murder, pillaging and attacking a civilian population in a 2003 attack on a village, was sentenced to 12 years' imprisonment. The duration was reduced on appeal and he will be released in Jan. 2016.
Human rights groups expressed concern about the transfer.
"Our prisons are in bad condition," said Dolly Ibefo, executive director of Voice of the Voiceless, adding that it was not clear whether the pair could be kept safe.
Jean-Claude Katende, president of the African Association for the Defense of Human Rights (ASADHO), said he believed the move complied with international norms but feared the inmates would not be properly monitored.
"I only fear that Germain Katanga and Thomas Lubanga can escape. If they escape, they are going to constitute a danger for the victims," he said.
REUTERS