Boko Haram Will Soon Be History – Senate Leader assures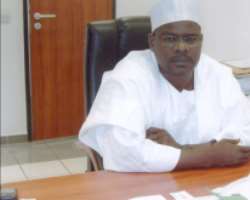 BEVERLY HILLS, December 19, (THEWILL) – The Senate Leader, Senator Ali Ndume has expressed confidence that insurgency in the North-East will soon become history following renewed commitment by the administration of President Muhammadu Buhari to tackle the menace.
Ndume made the statement on Saturday in Abuja in an interview with the News Agency of Nigeria (NAN).
The senator spoke to NAN shortly after presenting certificates to 100 internally displaced women, who had undergone three months training in tailoring.
The beneficiaries were part of the 400 women in Internally Displaced Persons (IDPs) in a camp in Karu, a satellite town in the FCT. The camp has a population of 1, 214 IDPs.
Ndume said: "By God's grace this thing – insurgency will come to pass; it has happened before, it is happening now and will come to pass; it will be history one day.
"We are hopeful that they – IDPs will return home as soon as possible; there is light at the end of the tunnel."
"We thank God that in spite what we are going through; the spirit of our people is still high."
"We are trying to survive; we are trying to make a living in spite the situation."
The senate leader thanked the Federal Government, NGOs and other organisations that had supported the IDPs.
Mr Sunday Waba, the leader of the Karu IDPs camp, commended President Muhammadu Buhari and the military for defeating the insurgents.
"We thank the president of the Federal Republic of Nigeria for his commitment to defeat the insurgents and the gallant Nigerian military, who sacrificed their lives to fight these evil people (insurgents)."
"We are hopeful that next year by the first quarter, God willing, we will start moving back to our various villages."
"We will return rich because we have acquire skills," he said.
Mrs Lydia Ashifa, one of the women, who benefited from the training, thanked Ndume and other lawmakers from their area, who came to their assistance.
"We are happy, we are very grateful. We will re-elect him (Ndume) again," Ashifa said.
Esther Joseph, another beneficiary of the training, said she was happy to be trained as a tailor.
She said that when she returns home, she would be a proud employer of others.
NAN