Boxing is the Best Tool to Eliminate Unemployment, Restiveness in Nigeria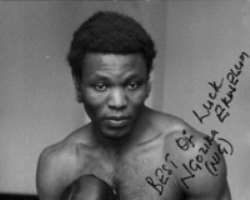 For those who caught a glimpse of the world boxing and principal actors of the then revered game between the late 60s and 80s, one name stood out among many. This is Ngozika Ekwelum. He was not just one of the players but a heavyweight champion, who excelled among his contemporaries in the entire Africa and Europe heavyweight competitions.
Ekwelum recorded about 31 bouts, and 186 rounds during which he won 17 (14 inside the limit), lost 9 (5 inside the limit) and 5 draw. In this interview with News48hrs.com reporter,Okechukwu Onuegbu, the 1948 Anambra State born boxing promoter revealed that boxing is a panacea to ending poverty and restiveness in Nigeria. Excerpts:
Who is Ekwelum?
I am from Engwu-abo, Ufuma in Orumba North Local Government Area of Anambra State. My childhood live was partly spent at Minna and Enugu. I finished my primary school education at Christ church Uwani Enugu. After that I never had an opportunity to further my education to secondary school. Then, I resided with my uncle, my father's younger brother around Zik's Avenue, Uwani Enugu. My uncle's daughter was almost my age mate and needed to go to secondary school as well. She proceeded to secondary while I was advised to learn mechanic. I rejected the idea because I wanted to return to school. There was a little disagreement. I chose to become a newspaper vendor aside other jobs I did to fend for myself.
How then did you late become a boxer?
I usually visit Enugu Sports Stadium at Asata. I was in love with lawn tennis. While playing the game one day with Patrick Obi (former lawn tennis champion) and his friends, our tennis ball felled into the boxer's area of the stadium and I went to pick up the ball. As I got in there, I was challenged by a professional boxer. The fight was tough when the boxers' coach, one Steve Jeff Okereke came in. I think he is from Delta state. He stopped us from fighting and asked me if I can box the young man. I agreed because I was never known as a fearful person. He said okay and dressed us with boxing gloves.
I boxed the professional boxer even though I was neither an amateur nor professional boxer as at then. Steve was happy over the outcome. He took us aside thereafter, and entertained us with some snacks and drinks. I can't just recall the brand's name; may be peppsi or so. But I was so delighted because it was first time I took drinks in my life… He further encouraged me to come back the next day for boxing training. We kept on doing that without my parents' knowledge.
I usually trek from our place of resident at Uwani Enugu to Coal Camp where there are lots of boxing activities. Most night I punch bags and other things surrounding our immediate environment. One Mr. Sylvester Izuka, a boxing expert became my trainer and coach. There was no type of boxing he doesn't belong to. Incidentally, when I came into Anambra state boxing team he was the Head Coach and my employers suggested we sack him having appointed me to replace him. I resisted the move because he was the person, who trained me. The then Chairman, Anambra Sports Council and director of sports, Late Umedum and his council members were astonished. And we became good friends. The first time we went out together was Port Harcourt 1988 sports festival. We won a gold medal, a silver medal and a bronze medal on heavyweight, super-heavyweight, and lightweight. These things happened in Anambra aside many other things after I had been in boxing for years. I was the first person to win a gold medal in sports festival in Nigeria. That was at National sports festival played at Lagos state in 1973. Most of the players in the team were soldiers except me.
Please, tell us how you rose to the world of boxing champion
After the Nigerian/Biafran civil war which I played role in, I had grown to heavyweight. There was a boxing championship at East Central State in 1970. I joined the boxing team, and won the champion on heavyweight category. You know I was less than heavyweight, at about middle weight before the war. But after the war, I was training over 90 kilogram.
The next day after winning the East Central State Boxing Championship, about five of us that participated on the competition were taken from Enugu to Lagos by a group of soldiers via airplane to train for Commonwealth Champions game held at Scotland in 1970. We did not fear because both of us actively participated on Biafran civil war. That was my first time of boarding airplane. We alighted at Police College Ikeja, Lagos were we started pre-trial for the commonwealth games along other players. Five of us from the East Central State won our fight the first, second and third day, and were integrated into the team going for the commonwealth championship.
Unfortunately, I lost in the quarterfinal of the Commonwealth Games at Scotland. After the commonwealth game, we went to Newcastle before returning to Nigeria around August, 1970.
I had met one Hen-klihing, a Dutchman from Holland at the championship. I kept on communicating him on why I wished to box in Europe. After sometimes he succumbed to my desire, and sent me a Visa to come to Germany. That was how my luck was pushed to Germany. I remember telling my parents in the village that I was travelling to Europe and they asked me where I got the money from. I told them that someone sent me the money although it was a visa.
In Germany, I met Ship Graycheal, oil merchandise (so to speak). He was to be my Manager …. It was from Germany I boxed as a professional boxer all over the Europe. It was a very big experience for me as I boxed in Europe for about thirty years; boxed at Berlin about 19 years, boxed in France, Spain, Italy, Canada, etc.
Please, remind us some of the boxing legends you boxed with as a professional boxer
In 1972 I boxed with Fatai Ayinra a yoruba man; in 1973, I knockout Ireno Werleman at Berlin-Germany, Jose Antonio Galvez at Hamburg, Germany, Armando Zanini at Brescia, Italy.
Also, in 1974, I lost to Avenamar Peralta at Charlottenburg, Germany; won Santiago Alberto Lovell at Cologne, Germany; knockout Richard Dunn at Berlin, Germany; Kilani Ramdani at Hamburg, Germany; Jose Antonio Galvez at Palma de Mallorca, Spain; Conny Velensek at Berlin, Germany.
In 1975, I boxed Eddie Neilson at Piccadilly, Great Britain; Billy Aird at Southend, Great Britain; knockout Fernando Ramos at Berlin, Germany; Ray Anderson at Ludwigshafen, Germany; Conny Velensek at Berlin, Germany; Jerry Judge at Berlin, Germany.
Similarly, in 1976,my opponents were Tony Moore at Munich, Germany; Reinaldo Raul Gorosito at Madrid, Spain; Lucien Rodriguez at Berlin, Germany; and in 1977 I boxed with Kallie Knoetze at Johannesburg, South Africa; John Lewis Gardner at Kensington, Great Britain; and in 1978 with Hennie Thoonen at Heerenveen, Netherlands ; won Bernd August Berlin, Germany.
In 1979, I won Eddie Cooper at Lagos, Nigeria for Nigerian Heavyweight Title; Tony Moore at same Lagos, Nigeria; Joe Kalala at Lagos, Nigeria for African Boxing Union Heavyweight Title; Trevor Berbick at Halifax, Canada; Paul Sykes at Lagos, Nigeria.
Others I boxed with in 1983 were Proud Kilimanjaro at Lagos, Nigeria for African Boxing Union Heavyweight Title; in 1984, Mary Konate at Abidjan, Côte D'ivoire; Charles Udalor at Lagos, Nigeria for Nigerian Heavyweight Title, and others.
You said you stopped your education at Primary School level in Nigeria, so how come you hold university certificate thereafter?
I met a young man, an America in Berlin whose name was Loyprat. He was a councilor for Americans in Europe and son in-law of Ship Graycheal, the oil merchandise I told you earlier. He speaks English, Spanish and French. So he was always around to interpret to Mr. Graycheal.
One day, Loyprat called me, and asked me what level of education I acquired. You know I love reading newspapers. I told him I went to primary school. He asked what does that mean, and I explained to him that it was the first stage of schooling in my country. He started comparing their schools system with Nigerian Schools. I told him I don't know. He then prepared some questions on general education and gave me to solve. That was the era computer was coming up. I solved those questions within two or three days he least expected, and returned them to him. He was amazed.
Few days later, he met me and told me that my answers to the questions were correct. That was how he encouraged me to return to school. At first I resisted his advice because I was about 23 or 24 years. Besides, I was comfortable with my earnings as heavyweight champion. I told him that I can use whatever resources I have gathered to set-up business when I returned to my country. But he successfully convinced me that with education I will enjoy my boxing profession even at old age. That was how I resumed my post-primary school education at Germany in late '70s. I studied Business Administration Management. Education gave me different orientation about life. It added many values in my life. And that is why I used to encourage my trained boxers to get education and vocation as well. Some of my trained boxers in Anambra state recently graduated from the Department of Computer Sciences and Arctech in Nnamdi Azikiwe University, Awka.
You seemed to have retired from boxing either directly or indirectly. So, what business are you into now?
Actually, I retired on September 1986 but not yet tired. I do all sort of things to keep body and soul together. I am a boxing consultant, promoter and coach. I worked as Admin with Anambra State Environmental Sanitation Authority before my employment was illegally terminated in 2010 by the then Anambra State Commissioner for Youth and Sports, Lady Chinwe Anowai…
As a boxing promoter, why would you advice youth to return to boxing?
Our youths have lots of potentials. With boxing they will realise their dreams. Our young men and young women need boxing to explore their entrepreneurial skills. This is because there are lots of categories for males and females boxers of all age and size. These include Minimum Weight, Light-Flyweight, Flyweight, Super-flyweight, Featherweight, Super-Featherweight, Lightweight, Super-Lightweight, Welterweight, Super-Welterweight, Middleweight, Super-Middleweight, Light-Heavyweight, Cruiserweight, Heavyweight, and Super-Heavyweight.
You know that people have difference physical ability and outlook. So it is in boxing. We don't cheat. For you to box you must box with someone of your weight to avoid any mistake. It is only in heavyweight that it doesn't come to play. You can weigh in 90kilograms while your opponent is weighing 100 or so. And it is of no barrier.
My objective is to make boxers out of millions of young men and women roaming about the street of Anambra State. Not only to make them champions for this nation and the world at large, but to help them fulfill their destiny on earth. Boxing creates wealth with little effort. For instance, in Nigeria today, GoTV does promotions for boxers. They present 1Million naira cash price and other merriment to best boxers. These are part of my project in Anambra. I have come to revive boxing in my home state. I have discovered that the problem with boxing in Nigeria is lack of incentives. I will provide incentives to participants at all category but the winners will take the lions share.
Also, in Nigeria we don't have enough boxing coach. In Anambra state to be precise, there is only one boxing coach. He is not even a boxing coach per say because he was a boxer that is all. He has no training, no license or certification. I trained him. He talks but has no substance. We need well trained or licensed trainers not one even if we call them Assistant Coaches.
Also, we need boxing punch bags, a minimum of five or more. We don't have to travel oversea to get all these. We can produce them locally at less cost. We need training guts and competition guts. We need boxing rings and weights. This is because the environment you train them contribute to their performance in championship at homes and abroad. But the materials and infrastructural structures must not be complete at once. We can start small small in accordance to the resources at our disposal. We need at least two boxing rings per a senatorial zone in Anambra State. It does not cost more than N2million. With this, we shall organise boxing competitions in the state at least twice a month.
What are other economic potentials of boxing especially to the government and potential sponsors?
Aside that boxing creates massive employment and empowers both the up-coming and renowned entrepreneurs to transform the society, it shall put an end to restiveness because no boxer would ever raise his hands upon anybody or thing.
It shall further help the government to increase its internally generated revenue, attract foreign and local investors, encourage local producers of the boxing tools to produce in large quantity and even export them abroad. This is because most of the infrastructures and material resources use for boxing are been produce locally even in this Awka. I know where people manufacture some of them beside my residential area.
Also, it shall market politicians, companies, private individuals, etc who would invest into it either as promoters or sponsors to the world far better than football does.