I Sold Pepper to pay My School Fees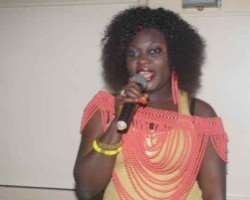 Recently, popular Yoruba actress, Queen Blessing Ebigieson, got tears dripping down the eye of some guest who had turned out to support her newly premiered movie, "Asise Nla, My Fate and Ibaje Dewa" on Sunday 13th December 2015.
The actress while speaking on her journey thus far explained that her success can only be attributed to God and hard work as she was some time ago a pepper seller who needed to make ends meet for herself and her family.
According to Yorubamoviegist, the actress said, "I would like to use this opportunity to tell my story of hard work, honesty and respect, to the younger ones even the old that it pays to be a fighter. Standing in front of you today is a lady who once upon a time sold pepper and Tomatoes e.t.c to pay her way through school.
"That didn't break me but made me stronger; and a better person. I can truly say I am blessed beyond words at my humble achievement over the years, it can only get better."