PDP Loots In Nigeria: Barrister Olisa Metu Must Explain The Assignment And The Billions Of Naira He Received From President Goodluck Jonathan For Unscrupulous Deals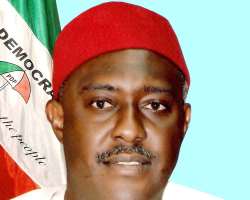 The Director-General of Grassroots Mobilizers for Buhari (GMB) of the All Progressives Congress (APC), Alhaji Umar Faruk Mohammed has berated the National Publicity Secretary of the Peoples Democratic Party (PDP), Barrister Olisa Metu over his refusal to disclose the billions of Naira he received from former President Goodluck Jonathan and for what purpose.
The Northern All Progressives Congress (APC) Chieftain in a statement released by GMB South-South Media Director, Dr Fred Latimore Oghenesivbe said as a minister in the temple of justice, Metu cannot frustrate the course of justice wherein it has been alleged that a huge amount of money running into billions of Naira was siphoned from federal government treasury and handed over to him for specific assignment on behalf of the former President or the federal government.
Alhaji Faruk Mohammed asserted that the PDP Chief Propagandist cum Publicity Secretary lacked legal and moral justification to say that whatever government monies he received from former President Jonathan in the discharge of his duties as PDP spokesman is not subject to scrutiny and criminal investigation.
He urged President Muhammadu Buhari to do the needful by ensuring that the rule of law prevails, adding that the Economic and Financial Crimes Commission (EFCC) must probe deeper into the financial scams alleged to have implicated Olisa Metu so as to recover the funds and prosecute the culprits and their partners in crime.
Dr Oghenesivbe who is also a full member of the Nigerian Institute of International Affairs (NIIA) quoted Alhaji Faruk Mohammed as saying that GMB as a group is in total support of the on-going war against corruption at all levels of government and appealed to Mr President to consistently use his good office as the Commander-in-Chief of the Armed Forces of the Federal Republic of Nigeria to purge all looters of the nation's financial resources from 1999 till date and use the funds to build the new Nigeria of our dreams.
Mr Olisa Metu as a lawyer and a friend of the Court of Justice did not avert his mind to the relevant Rules of Professional Conduct for Legal Practitioners coupled with the fact that he made no commonsense when he declared at a press briefing in Abuja that the huge money given to him from the federal government treasury for certain yet to be disclosed deals remains his private business and not subject to investigation, the statement added.