Ijaw Youths Tip Gov. Dickson To Serve As A Rallying Point Of Ijawunity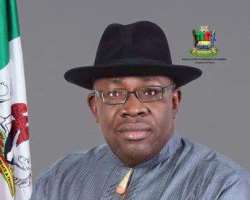 Ijaws Youths worldwide have urged Governor Seriake Dickson to serve as a rallying point of the Ijaw nation. This was the outcome of the meeting held by some youth bodies cutting across all six States: Ondo, Rivers, Akwa Ibom, Delta, Edo and Bayelsa States where Ijaws are indigenous.
The spokesman of the youths Comrade Osime Iyalla said of all the core Ijaw States, Bayelsa's Governor Seriake Dickson stands out as a leader who is capable of uniting all Ijaws at home and abroad.
In our opinion, one of the qualities of a good leader is the ability to build a Team.
A good leader should be able to establish peace and unite the people. Peace and unity are essential to the progress and prosperity of any State. To the best of our knowledge, Governor Seriake Dickson has met the two conditions: that of establishing peace and uniting the people. Governor Seriake Dickson promotes the Ijaw culture.
Mr. Osime Iyalla said if you look around the States, it is only Governor Seriake Dickson that has appointed all Ijaws to political positions irrespective of their States of origin. It is only Governor Seriake Dickson that has a holistic vision for the development of the Ijaw race. He holds the core of the Ijaw agenda and only he can unite the Ijaw race. We consider this a historic responsibility God and the ancestors have given to him and he has to prepare for the task, Iyalla said!
The Ijaw ethnic nationality is no doubt the fourth largest ethnic nationality but the Ijaws are now marked out for ethnic cleansing under the Buhari administration. This is demonstrated in his ant-corruption war, which is directed only at the Ijaws in ex-President Jonathan's administration.
The people are spread across over six States of the Country, with a substantial number of them in the riverine areas because of their aquatic life style. One thing that has eluded the Ijaw nation over the years is the absence of a rallying point among the numerous leaders of the ethnic group. For now, the only Ijaw State that can serve as a rallying point is Bayelsa State where we have a Governor that was accommodating not only Ijaws from other States but also non-indigenes. This is why we the youths are tipping Governor Seriake Dickson as a man who could be that form the much-needed rallying point for the Ijaws.
The Youths have promised to hold an enlarged meeting in Ijaw House in Yenagoa after the conclusion of the governorship elections in late January, 2016, where a communiqué will be issued.
Alamene Odubo
from Port Harcourt
16/12/2015