FG approves construction of new refineries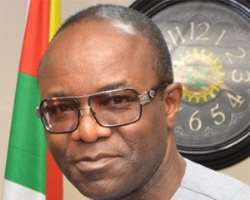 The Federal Government has unveiled plans to build new refineries as part of efforts to ensure that the country refines substantial volume of its fuel needs.
Minister of State for Petroleum Resources, Dr. Ibe Kachikwu, made the disclosure during an interactive session with members of the National Assembly in Abuja.
The Minister, while pledging his readiness to work closely with the National Assembly to ensure the speedy development of the country's oil and gas sector for the benefit of Nigerians and the entire country, pointed out that the new refineries would be sited within the old ones and would be funded by private investors.
The idea of citing the new refineries within the old ones, according to him, is to enable the refineries share power, pipelines and other resources.
On the current state of the refineries, Kachikwu stated that from available reports, two of the refineries may be re-streamed before the end of December.
Sponsored Advert:
VACANCY! VACANCY!! VACANCY!!!
Job Position: Chief Accountant at an Agro-Allied Conglomerate in Delta State
Click here for details
He stressed that the new agenda for the oil and gas industry is centred on having the right people, doing the right things, at the right time, for the right purpose to yield the right results.
The Minister in his presentation to members of the National Assembly titled, 'The Roadmap for Nigeria's Oil and Gas Sector,' noted that the average national oil production as at July 2015 stood at 2.1 million barrels per day and the Nigerian Petroleum Development Company (NPDC) equity production is 99,000 barrels per day.
He regretted that the declining Joint Venture reserves were due to inadequate and low investment in the oil assets, stressing that the issue of funding constraints must be addressed going forward with the collaboration of private and international investors.
Kachikwu informed that the average gas-to-power generation is about 3,000 megawatts and domestic gas supply of one billion standard cubic feet (scf) with the contribution of 600 million standard cubic feet from NPDC.
He stated that the petroleum sector under his watch would ensure that the Nigerian Content policy would transform the oil and gas industry into the economic engine for job creation and national growth. – The Sun.