Buharinomics And Its Consequences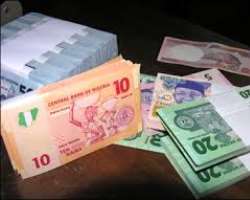 When Mr President presented supplementary budget of N465.6billion along with a request of borrowing N2.103 trillion to finance a fiscal year that is about to end, we were amazed about the timing.
88.8% of the N465.6 billion supplementary budget, N413.363 billion has been earmarked for the payment of subsidy for PMS, and the loan indicates an upward review of initial N882.1billion borrowing in the 2015 budget to N2.103trillion to finance the budget. But with the Senate approval, everything has been jerked up. Supplementary budget is now N575billion while PMS subsidy is N522.26billion.
2015 budget was predicated on a benchmark of $53 per barrel, foreign exchange at N190 to $1 and oil production of 2.2782 million barrels per day, the benchmark has now been revised downwards to $48 a barrel; foreign exchange remains at N190 to a dollar while oil production volume has been reduced to 2.2003 million per day.
From the above factors, we have deduced these.
Fuel Subsidy
Earlier in the 2015 budget, N100billion was earmarked for PMS and adding the purported N522.26billion to it will make it a total of N622.26billion for a fiscal year. Placing this beside 2014 fiscal year, N961billion was earmarked but eventually paid N441billion. In the same year, annual average oil price was $106 per barrel with exchange of N157 to $1.
While from May to October this year, average oil price stood at $52 against benchmark of $53 predicated in 2015 budget. Also, exchange is still N196 but pegged at N190 to $1.
We hereby ask Buharinomists these simple questions;
1) why are we paying more for subsidy than last year Or has our exchange rate doubled?
2) why is 50% slump in oil price not reflecting?
3) has consumption rate increased?
4) how much is differential charges and actual subsidy in the purported N522.26b?
5) why the reduction in daily production when no Minister is stealing 1million barrel per day?
Borrowing to finance budget.
Standing on the above premise, supplementary budget of N465.6billion has increased 2015 budget to N4.930trillion from N4.485trillion as submitted. But as approved, supplementary budget is now N575billion meaning 2015 budget will be N5.060trillion.
Meanwhile we are not against borrowing. But borrowing N2.103trillion which has even been increased by Senate approval will tantamount to 43% deficit and for a budget that already has N953.6 for debt service to be financed by 43% loan again will be another headache for the coming years.
Secondly, if Buhari should succeed in taking this loan it will add to $3billion loan earlier taken under his government within 7months. Please do well to add it up.
Now our questions are;
1) what has happened to N1.094trillion received as FG shares from FAAC for May to October 2015 as allocation, aside other revenues?
2) can they tell Nigerians what they have used N2.5trillion they mopped up through TSA for?, since they have received accolades for it.
3) what has happened to money saved for 6months without Ministers or were there ghost Ministers collecting salaries?
4) can they tell us the use of all grants collected for fighting insurgency before appropriation of another N39billion in the supplementary?
5) what type of fiscal year are they using that will warrant this sudden loan?
There seems to be more questions begging for answers. We hope to see how prudent this government will be with purported N6trillion budget for 2016.
Good Governance Advocates