APC GMB South-South Hails President Buhari's Political Will Power To Fight Corruption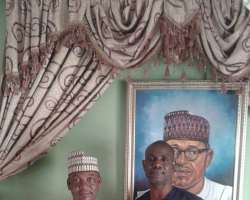 President Muhammadu Buhari has been commended for his unshakable political will power to fight corruption to a standstill in the country, no matter the caliber of Nigerians involved.
The South-South chapter of APC Grassroots Mobilizers for Buhari (GMB) in a statement by its Director of Media, Dr Fred Latimore Oghenesivbe said Nigeria is gradually moving away from a failed nation state, taking strategic giant steps to becoming a great country.
He said the heart breaking ARMS DEAL mismanaged by the former National Security Adviser, Sambo Dasuki and the Jonathan Goodluck administration is a pointer to the fact that the Peoples Democratic Party (PDP) had no value for human life which is why the money meant to procure arms and ammunition to fight insurgency was shared among the political class as part of their national cake.
Dr Oghnenesivbe who is a full member of the Nigerian Institute of International Affairs (NIIA) posited that the rate at which the PDP government looted the nation's treasury had painted Nigeria in a bad light before the international community, adding that the integrity of our nation will be restored and sustainable if President Buhari is able to recover the stolen funds and deploy the huge financial resources to develop the new Nigeria of our dream.
The group urged President Buhari not to relent in his efforts to uncover all shady financial deals which the PDP government perpetuated in her 16 years of misrule.