President Buhari Group Rectified Dr Fred Latimore Oghenesivbe's Appointment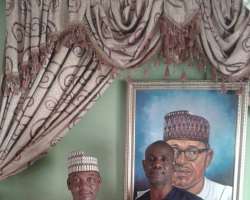 The Director-General of President Muhammadu Buhari political pressure group, Alhaji Umar Faruk Mohammed has rectified the appointment of Dr Fred Latimore Oghenesivbe who was recently appointed as the South-West Publicity Secretary of the Grassroots Mobilizers for Buhari (GMB).
The appointment attracted agitation from chieftains and supporters of the All Progressives Congress (APC) in Delta State saying that the strategic political communicator is best suited to serve the South-South geo-political zone of GMB and the APC.
A statement by Director General of GMB, Alhaji Umar Faruk Mohammed released by the National Organizing Secretary, Chief Igho Osiobe said the National body in consultation with APC GMB South-South exco decided to yield to the genuine request of major stakeholders of APC Delta and have subsequently drafted Dr Fred Latimore Oghenesivbe to function as the South-South Director of Media and Political Communication of GMB APC to assist the federal government information and media team to proactively and strategically project and articulate President Buhari administration's policies and programmes.
He said the new South-South Chief Publicist assignment covers Rivers, Cross Rivers, Akwa Ibom, Bayelsa, Delta and Edo States.
In the light of the above, Dr Fred Oghenesivbe will be inducted into the Think-Tank team of GMB APC at the National level in a date to be announced later by the group Director General.
Dr Latimore, according to the statement retains his position as the Director of Media and Political Communication to Delta APC candidate, Olorogun Otega Emerhor.
His appointment is with immediate effect, the statement added.