Questions For Bukola Saraki, An Error Of Our Democracy And His Dumb Followers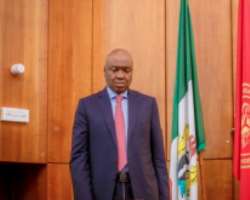 Wave after wave, Bukola Mesujamba Saraki has proven to be an error of our democracy. The latest installment of Saraki's leadership gone bad that has become a tragic Nigerian ritual was his vocal support for the obnoxious Internet censorship bill.
The achingly familiar sequence began when Saraki and wife beater Dino Melaye engaged in social media bashing especially SaharaReporters for its investigative probe into their past and present criminal activities. If the Senate President of Nigeria could be fingered in several crimes and reckless breach of our Constitution, then there is no scant hope that the 8th Senate will do our democracy any good.
Meanwhile, the images of relief and joy have been uploaded into our collective social media psyche having successfully pushed back the social media terrorists into oblivion.
With President Muhammadu Buhari leading the way to extricate Nigeria from the tangled web of corruption, he's now contending with pest that plagues most true leaders today: distracters who would do everything possible to interfere in the rebuilding work of a nation. Saraki is the most active and visible Sanballat – the great distracter of Buhari's restoration work.
Saraki as Sanballat knew the repair and restoration of Nigeria would bring a major shift in commerce and political power. Saraki like the status quo and had a vested interest in Nigeria remaining in disrepair, so he set about his distracting work. Saraki first tried to stop the work by mocking and ridiculing the war on corruption by subjected our judicial system to frivolous law suits in order to escape justice.
When he knew that would not work, this evil but resourceful Sanballat adjusted his strategies. He shifted his tactics to clamp down on free and accessible Internet for Nigerians. But we're lucky to have Mr. Buhari as the President who pronounced the bill dead on arrival (DOA) because he said he'll not sign any bill that violates freedom of speech as enshrined in our Constitution. President Buhari countered every assault of Saraki the Sanballat without looking back and provides the impetus to forge ahead with his vision for Nigeria.
There comes a time when a leader must critically evaluate his leadership by turning inwards and confront himself with unpalatable questions. The historical Socrates reminds us that the "unexamined life is not worth living." If Saraki had examined his life, there need be no restraining hand, no accusing witness; rather the fact that some act is wrong will regulate his behavior.
It is obvious from his criminal activities, moral lapses, leadership flaws and failures that Saraki had not examined his life while making ethical and moral decisions which now haunt him every where he goes. Saraki's behavior is likened to a general who forgot the real boss. When a leader forgets whom he serves, he quickly falls prey to the basest human instincts. A leader who cannot humble himself to serve his people, always act out of selfish motives and hurt his nation. Because Saraki has failed to subject himself to self examination, I have decided to help him out.
It takes service and sacrifice to be a leader. Mr. Senate President, what do you think leadership is all about? Why do you want to lead? How much do you want to lead? Why do you engage in unethical practices and corruption? Do you think you won't get caught or you believe your elevated status as the Senate President puts you above the law? Why do you always loose your moral bearings and often yield to seductions on your paths?
Why is it that your goal is the quest for power over others, unlimited wealth, and fame? Why do you often appear self-centered and egotistical? Why do you believe in your own press? Why do you believe the Senate cannot survive or succeed without you? Why do you focus on external gratification instead of inner satisfaction? Why do you often reject the honest critic who speaks truth to power? Why do you surround yourself with sycophants who tell you what you want to hear? Why are you unable to engage in honest dialogue and hate people who confront you with reality?
Why do you impose your will on others, even destroying people standing in your way? Once you imposed yourself as the Senate President you became paranoid that others are trying to knock you off the pedestal. Why? Why have you developed impostor complex? Why are you so incapable of acknowledging your failures and confess to your crimes? Why can't you just take responsibility for your actions?
Using your power and position, you have forced some Nigerians to accept distortions, infect the judicial apparatus especially the judges with corruption? Why? Can you explain to Nigerians why you have violated the law so many times with impunity and gotten away? Why have you decided to shut down the inner voice? Is it because it is too painful to confront or even acknowledge? Don't you think you need to reframe your leadership from being an "hero" to being a servant of the people?
Why do you like to bask in a world of adoration and adulation? Indeed, truly great and sustained leaders must routinely be humbled in order to maintain their greatness. Mr. Saraki, why do you wrapped yourself with the sense of invincibility? Why do you feel you're just that good, infallible, and proud? Why do you constitute yourself to be an error of our Democratic Revolution of March 28 by being the Sanballat of the President's agenda on war on corruption? Why can't you bow to public opinion that is overwhelmingly against you and leave Nigeria alone?
Mr. Senate President Sir, what have you done lately for your Kwara constituents and for Nigeria as a nation? In your eight years as Kwara State Governor name one thing, just one, that you did that improved the quality of life of Kwara people? With all the evils and atrocities that you have induced, planned, birthed, and perpetrated, how can you sleep at night with your two eyes closed? How do you want to be remembered? What would your epitaph to read like?
Mr. Saraki, consider this: The US Senator John Ensign told his fellow senators in a farewell speech in 2011, "When one takes a position of leadership, there is a very real danger of getting caught up in the hype surrounding that status… Surround yourselves with people who will be honest with you about how you really are and what you are becoming, and then make them promise to not hold back… from telling you the truth." Like you always preach that people should take responsibility for their actions, lead by example and resign as the Senate President TODAY and save our nation from unnecessary distractions in the important task of rebuilding and renovation that is ongoing.
Now, to the dumb followers of Mr. Saraki. What do you see in Mr. Saraki as a leader that make you follow him blindly? Does he meet your definition of a leader? Why do you still love and revere him? How would you describe him – a curse or a blessing to you and Nigeria? Are you happy and satisfied with what he's doing to our democracy? Why do you continue to support and fight on his behalf in spite of all his criminal records? Are you not ashamed of him as your Senate President?
I asked these questions because a follower must critically evaluate the leader he follows. Like one of Nigeria's great moral power house Tai Solarin used to remind us that leadership mirrors followership. In other words, since followers imitate leaders, they are just like the leader. Are you like Saraki in morals, values, ethics, discipline, etc? Do you know why you're following Mr. Saraki? Do you know where he's leading you? Can you boast of him as your Senate President? Are you proud of him?
Choose for you this day who your Senate President should be!
Written by Bayo Oluwasanmi.
[email protected]
Disclaimer:

"The views/contents expressed in this article are the sole responsibility of the author(s) and do not necessarily reflect those of The Nigerian Voice. The Nigerian Voice will not be responsible or liable for any inaccurate or incorrect statements contained in this article."