Budget: Buhari To Address Joint Session Of National Assembly Next Tuesday As Senate Approves MTEF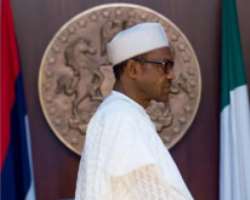 SAN FRANCISCO, December 16, (THEWILL) – President Muhammadu Buhari will address a joint session of the National Assembly on Tuesday next week to present the N6.04 trillion 2016 budget.
This follows an executive communication from President Buhari and read on the floor by Senate President, Bukola Saraki at Wednesday's plenary.
"I urge the National Assembly to grant me the slot of 10:00 hours on Tuesday, 22nd December 2015 to formally address a joint session of the National Assembly of the 2016 budget," Buhari stated in his letter.
Also on Wednesday, the Senate approved the 2016, 2017 and 2018 Medium Term Expenditure Framework (MTEF) and Fiscal Strategy Paper (FSP).
This followed the adoption of the report of the Joint Committee on Finance, National Planning and Appropriations.
The upper chamber approved a crude oil benchmark price of $38 per barrel for the 2016 budget at an Exchange Rate of N197/$1 as well as daily crude oil production of 2.2 million barrels per day, as proposed by the President.