Int'l Best Actress Nom for UFUOMA EJENOBOR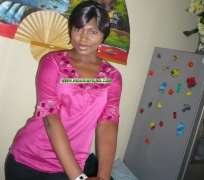 One TV series that has got many families running back home to catch is "My Mum and I" from the Royal root stable.
Not surprisingly, the TV series has got so much review and acceptance all over the African continent...or so we thought.
It was recently disclosed that the series' star Ufuoma Ejenobor has earned herself a "Best Actress" nomination at the Monte Carlo
Film Festival in France which is to be held from the 6th- 10th of June this year..proving that our products are indeed celebrated all over the world.The Producers of the series Greg Odutayo and his wife Debbie Odutayo were also nominated in the producers category.
The Festival which started in 1961 showcasing television talents and efforts from all over the world would be holding its 50th edition this year.Some of its past winners include our very own Chiwetel Ejiofor and Richard Ayoade, Keifer Sutherland, Julie Walters, Christina Hendriks,"My Mum and I" was nominated with world class series like "30 Rock", "Mad Men", "The Office", "Entourage", "Lost" and "Skin".
In the category of Best actress (comedy series), also nominated are co-star Aramide Okegbenro, Tina Fey and Jane Krakowskii. In best actor category is also co-star Gbenga Windapo, Alec Baldwin, Steve Carrel, Josh Holloway. i guess Ufuoma is in good company.
Ufuoma started out in entertainment as a model then later a beauty queen who went to represent Nigeria at the Miss Earth Int'l Pageant
in the Philippines. She later took on acting and has since risen steadily. With her good command of the English language and brilliant
acting prowess, it wasn't far to see that Ufuoma was saving herself for the international stage.
Today she is celebrated internationally (not just in Africa as we thought) as one of few actresses so nominated, the world over.
WWW.NIGERIAFILMS.COM

The venue of the event / www.nollywoodgists,com
Story by nollywoodgists.com