Amaechi denies knowledge of multi-billion naira contract to Tompolo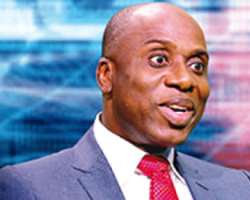 Minister of Transportation, Mr. Rotimi Amaechi, on Tuesday, said he had yet to be briefed about the multi-billion naira pipeline protection and waterways security contract awarded to company linked to ex-Niger Delta warlord, Government Ekpemupolo, popularly known as Tompolo.
Amaechi stated this when he appeared before the Senate Committee on Marine Transport led by Senator Ahmed Rufai Sani at the National Assembly complex.
Amaechi said he first heard about the contract on the pages of newspapers and that he had yet to be properly briefed by officials of the Nigerian Maritime Administration and Safety Agency on the matter since his appointment as minister was confirmed last month.
The minister said he knew about Global West Vessel Specialist Agency Limited - a company linked to Tompolo - when he visited the office of NIMASA recently.
He said, 'It was in the public that I knew that Tompolo had a contract. Even up till now, I have never been briefed about the contract.
'How did I know the company? I got to NIMASA and I saw a building that was looking very ugly. And I said for Christ's sake, who are the people staying in this dirty place? And they said staff of Global West Company and they are Tompolo's staff.
'Nobody ever mentioned that contract to me. That's why I said give me information about all the contracts that you have awarded in NIMASA so that I know and the stage of payment.'
The company secured the $103m contract during the Goodluck Jonathan administration, alongside other similar multi-billion naira contracts.
Tompolo was one of the Niger Delta militants who accepted the Nigerian government's amnesty programme in 2010.
The contract and other similar ones given to Global West and other companies linked to the ex-militants have raised controversy since they were made public. - Punch.