Nigerians will beg PDP to return in 2019, says Fani-Kayode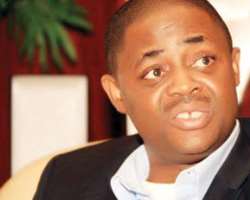 A former Minister of Aviation, Chief Femi Fani-Kayode, says the highhandedness of President Muhammadu Buhari's government will make Nigerians beg the Peoples Democratic Party to return in 2019.
Fani-Kayode was reacting to the clash between the Nigerian Army and members of the Islamic Movement of Nigeria whose members allegedly attacked the convoy of the Chief of Army Staff, Lt. Gen. Tukur Buratai, on Saturday.
The Nigerian Army confirmed on Monday that about seven members of the Shiite sect were shot dead while 10 other members of the group were wounded in its bid to ward off an alleged attack by the group on Buratai.
The army said the shooting by the troops accompanying the COAS' convoy was 'in line with the rules of engagement' to save the life of the COAS from 'heavily armed' members of the Sheik Ibrahim El- Zakzaky-led Shiite sect.
But Fani-Kayode, in a series of tweets on his official Twitter handle on Tuesday slammed the army for allegedly shooting innocent citizens.
He said, 'They are soft on Boko Haram while they kill Shiite, Christians and Biafran protesters. They defy court orders and mock the judges. They abuse power and defy the word of God. Shame to all those that have joined this government!
'By the time it's over, Nigerians will beg the PDP to come back. Like the proverbial frog that is being slowly boiled in water but that does not even feel it, our people are being taken for a ride by President Buhari.'
The former minister also condemned what he called disrespect for court orders by the Federal Government.
He added, 'Trial by the media does not often lead to a conviction by the court of law. Meanwhile, as this obscene show of labelling everyone but himself a crook and feeding the innocents to the lions, Buhari is ruining the economy.' - Punch.