Saraki blames alleged arms deal fraud on poor legislative oversight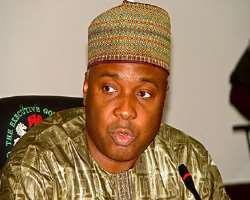 The reckless looting of national treasury by past governments in Nigeria, as exposed by the sleaze in arms deal, is a reflection of failure by the National Assembly to hold the governments accountable by means of proper oversight functions, the Senate President, Dr. Bukola Saraki, said on Tuesday.
He said this in his remarks on a motion on abandoned projects in the country.
He said had the legislature carried out its oversight effectively it could have ensured that the money appropriated for arms purchase was strictly used for the purpose.
Saraki vowed that the 8th Senate, under his leadership, would not allow poor oversight of the executive arms, again.
He said: 'This issue about Dasuki and the arms deal is a failure of the lack of oversight on the part of the National Assembly. If we had done our job, this would not have happened. I think we shied away from our responsibility. This issue is an indictment on the National Assembly.
'It is our duty to ensure that projects are not abandoned and that funds appropriated are well used. This 8th Assembly must play its role.
'I think we have shied away today from one of the main reasons we are here because some of the projects are duly appropriated in the budget and embarked upon by various ministries and agencies and the motion whether we like it or not is a partial indictment on us in the National Assembly and we must accept that because these projects that we are talking about under Section 88 of the Constitution, 1(a) (b) it is our responsibility to oversight these functions and these projects to ensure they are not abandoned and to ensure that the funds appropriated are properly used.
'I want us in this 8th Senate to ensure that our committees carry out proper oversight and we are going to ensure that we find a way to make sure that committees do their work on oversight because truly that is the bottom line to this.
'The current investigation going on in the National Security Advisers Office queries the effectiveness of the oversight function of the National Assembly.
'We must play our roles in the area of oversight, because if we don't do it, at the end of the day this is what we will get.'
Senator Nazif Suleiman, who moved a motion titled: 'Abandonment of Projects: A menace to development in Nigeria', lamented the case of abandoned projects, stating that so far 11, 886 of projects were almost abandoned in the country.
He said Nigeria required a total sum of N7.78 trillion to complete projects abandoned by the federal and state governments.
He berated the successive governments for abandoned projects urging the Senate to begin to take actions towards putting an end to the trend.
He said the defective means of awarding contracts in Nigeria was a key factor accounting for abandonment of projects in which case contracts were awarded to cronies or friends, who according to him, lacked the expertise on handling such projects.
His words: 'Previous governments embarked on weekly charade of awarding new contracts or re-awarded old ones at higher prices during its weekly Federal Executive Council (FEC) meetings.
'The desire for credit-taking, rather than genuine service delivery, was behind the drive for new projects and abandoning of old ones.
'Abandoned projects fuel corruption and reduce public confidence and trust in government. Factors such as poor planning, inadequate budgeting, delay in releasing project funds, which lead to delay in project execution, increased contract cost variation and contract splitting, in order to give jobs to friends are the major reason for projects abandonment'.
The Senate after adopting the motion urged the government to set up a project performance and monitoring task force to severely punish contractors who collected mobilisation funds and disappear. - Daily Times.