APC promise: N5, 000 stipend not for every unemployed youth – Ngige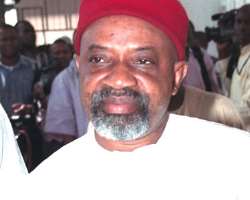 The Minister of Labour and Employment, Dr. Chris Ngige, has clarified the position of the All Progressives Congress (APC)-led Federal Government on the payment of N5,000 to all unemployed Nigerian youth, saying the money is not meant for all youths.
Ngige said contrary to the belief that the N5,000 is meant for all youths, only the vulnerable ones amongst them would benefit.
The minister made this clarification at the fifth anniversary celebration of Bina Foundation and graduation ceremony of the Foundation's skill acquisition students in Enugu where his ministry donated equipment worth N10 million.
'You can see that employment creation is the main issue. We have heard people say we are waiting for N5,000. We did not say we are paying N5,000 to all the youth. We are saying it is for the most vulnerable.
For the social safety needs, we have budgeted N500 billion for the next fiscal year. We have captured unemployed graduates. We are doing two things. We get those who read Law, Engineering and other disciplines but do not have jobs, train them for nine months and convert them to teachers.
'Most of our schools have half-baked teachers. We want to redefine our schools and make them what they are. We are also building skill acquisition centres. We have 12 of them across the country.
The era of white collar industry is gone. Nobody in Nigeria will be unemployed. People will learn how to use their hands,' Ngige said.