CITIGROUP RETURNS TO BLACK WITH $4.4BN PROFIT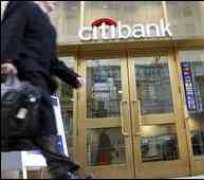 The bank benefited from stronger trading profits
Wall Street banking giant Citigroup has reported a profit of $4.4bn (£2.9bn) for the first three months of the year.
The result represents a return to profit after the bank lost $7.6bn in the last quarter of last year after repaying government loans.
However, the bank said it remained "cautious" given the "uncertain economic recovery".
Last week, rival bank JP Morgan reported better-than-expected first quarter profits of $3.3bn.
Also last week, Bank of America posted a $3.2bn profit for the period.
Citigroup shares rose by 33 cents, or 7.2%, to $4.88 on Monday.
Goldman shadow
Citigroup said strong performance from its trading division had helped to drive profits, as had reduced losses from bad loans.
The bank is more exposed to consumer loans than many of its major Wall Street rivals, who derive a higher proportion of their income from investment banking operations.
The positive results have been overshadowed by the US financial regulator's decision to charge rival banking giant Goldman Sachs of defrauding investors.
On Friday, the Securities and Exchange Commission charged Goldman over the bank's marketing of certain mortgage investments just as the US housing market faltered.
Goldman has rejected the SEC's allegations, saying that it would "vigorously" defend its reputation.
"The trend of positive release for financials continues – it looks like a solid release for Citi," said Matt McCormick at Bahl & Gaynor.
"However, you have the micro situation with Citi, but the macro situation is that Goldman is going to be dominating the news with financials for days to come."