Securing a Future of Happiness was the reason I married my Wife – Naeto C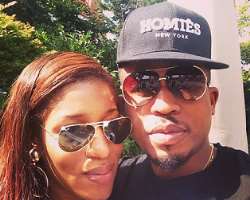 Popular Nigerian singer, Naeto C, who started is music career way back 2006 with his first debut album 'Son of the Soil' under Storms records, has recently hinted on what pushed him into getting marrid to his lovely wife.
The 'ten over ten' crooner who married is beautiful wife Nicole, in 2012, speaking with punch said he married his wife because he sees her as a friend, companion and somebody he can secure a future with.
"In life, there are only a few people you feel you can get things like this from. If I did not make that decision when I did, maybe today I would still be a bachelor. It is just the same thing with my Master's degree; if I did not study for it when I did, I probably would never get it. Life is about making decisions and securing a future of happiness is the main reason I got married to Nicole."
He also revealed that the fear of not wanting to become a baby daddy has made him marry his heartthrob earlier then he planned.
"I cannot speak for another man but I know sometimes people intentionally want children out of wedlock while other times, it is accidental. Part of the reasons I decided to get married when I did was because I did not want to become a 'baby daddy.' I did not want to raise a kid out of wedlock because it is not easy. If I was not married, I would have been more concerned with settling down as opposed to getting a girl pregnant out of wedlock."
The father of two believes that his marriage brought goodluck charm to his musical career.