Dr. NGOZI OKONJO - IWEALA EXONERATES SELF FROM AIDING ARMS DEAL FRAUD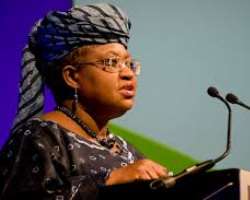 The former Minister of Finance, Dr. Ngozi Okonjo - Iweala has denied any illegal involvement in the disbursement
of $300,000,000.00 (Three hundred million dollars) and £5,500,000.00 (Five million, five hundred thousand pounds) to the former National Security Advise (NSA), Rt. Col. Sambo Dasuki.
In a letter to President Goodluck Jonathan by the former Minister dated 20th January 2015, with refence:ME-HME/FMF/2015/18 before the release of the funds, she explained that the NSA had made the request inorder to procure amunitions and other security hardwares to be used in waging war against Boko haram terrorist group.
The letter made available to The Nigerian Voice, explains that the recovered Abacha loot be shared 50-50, between urgent security needs to fight Boko haram, development needs and savings in the Soverign Wealth Fund (SWF).
The letter further stated that the money was to be borrowed for disbursement to the NSA, who will present detailed utilization of the funds to the President (Goodluck Jonathan).
See attached letter.
Attached Documents