HOW BALARABE MUSA, OTHERS FRUSTRATED MEGA PARTY-ATIKU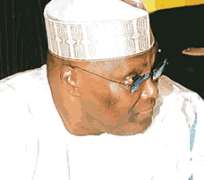 Former Vice President, Atiku Abubakar has identified former Governor Balarabe Musa of Kaduna State as one of those who frustrated the recent initiative to form a mega opposition party in the country.
The former Vice President made the disclosure in a statement issued by his media aides in Abuja on Monday. The statement was in reaction to allegations by Alhaji Balarabe Musa, listing the former Vice President as one of those responsible for the failure of the mega party initiative.
'Alhaji Alhaji Balarabe Musa gave an inadequate account of the matter possibly because he stopped being a member of the mega-party initiative immediately the group was expanded to include other politicians in the serious effort to a viable and a truly mega political platform. The moment the group became bigger, he walked away.
'It is on record that Alhaji Balarabe Musa stopped attending the meetings of the mega party initiative immediately its meetings were moved away from the house of Pa Anthony Enahoro. It is also on record that Alhaji Balarabe Musa declined to join the mega party as a member on the ground that he was not willing to lose the identity of his political party, Peoples Redemption Party (PRP). He preferred to go into alliance with the mega party, in spite of entreaties by many of the promoters of mega party that the alliance option had never worked in Nigeria.
'Balarabe has the unenviable record of being the first major political actor to walk away from the mega party at a time when it had the most attraction for other parties and factions.
Giving an account of the mega party initiative, the statement identified two initiatives behind the formation of the mega opposition party. One was under the leadership of Chief Anthony Enahoro while the other was under the leadership of General Muhammadu Buhari, former Vice President Atiku Abubakar and former Governor Bafarawa of Sokoto state.
It was in the bid to enlarge the spread of the mega-party that it was agreed upon to bring the two initiatives together. Alhaji Balarabe Musa was part of the Chief Enahoro Initiative but he stopped attending meetings of the initiative immediately the two groups were brought together.
It is also on record that Alhaji Atiku Abubakar publicly expressed his frustrations over the failure of the initiative to work due to numerous problems, which included the insistence of people like Alhaji Balarabe Musa to maintain their existing political parties.