Embezzlement  of N4 Billion Biafran Fund: Igbo Mandate Congress Condemns MASSOB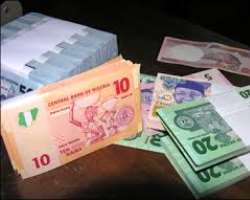 Igbo Mandate Congress IMC has condemned the self inflicted break-up of MASSOB into two factions as a result of embezzlement of the Multi-billions of naira and millions of dollars accruing to the group over the years.
At this time when Pro-Biafra protests started by few IPOB faithful and joined by numerous frustrated and marginalized Igbos of South East Nigeria is drawing international attention to the sorry state of Igbo Nation, what is least needed now is the distraction of a MASSOB break-up.
The Founder and leader of MASSOB, Chief Raph Uwazurike was yesterday expelled from the body by a faction of the group, and sworn in a new helmsman in the person of Uchenna Madu, former National Director of Information. Madu was one of those who have served Uwazurike and MASSOB faithfully from the beginning and deserves better treatment from 'Chief'. IMC had learnt over time that Madu and his supporters were kept in the dark over the billions MASSOB was garnering in the name of Biafra. IMC had known over the years that Madu and his loyalists were the fifth group to abandon Uwazurike's MASSOB on account of financial impropriety.
Igbo Mandate Congress, IMC and General Assembly of all Igbo Christian Organizations and Ministers, GAAICOM had in the past three to four years been authorized by leading Igbo clerics and opinion leaders to wade into feud between Uwazurike and his complaining lieutenants over mismanagement of financial issues with the intentions of ensuring that the South East is not turned into a bloody zone as a result of sharing formulae. IMC and GAAICOM had expected Uwazurike to have appreciated our past interventions and mase his financial dealings with his boys more transparent so that his lieutenants would stop salivating and gallivanting around.
Igbo Mandate Congress also noted that those same MASSOB members who lived in denial two –three years ago, when we described the financial impropriety in the organization as a time bomb waiting to happen, are the same people canvassing the same arguments now. The New MASSOB leadership had alleged among others that
1. The introduction of the Biafra international passport through Uwazurike generated about N100 million for himself in a manner they saw as fraudulent.
2. The diversion of over N40million realized from the dedication of the Biafran war veterans' home in Okwe built by MASSOB members to Uwazuruike's personal purse.
3. Collection of proceeds from membership identity card with the sum of N1, 000 and also pay monthly income tax of N200 to Uwazuruike, running into billions yet unaccounted for
4 Purchase of private properties in many locations in Owerri, including a street bought and named after Uwazulike in New Owerri, which comprises 28 plots.
5. Conversion of contributed nearly N4 billion in the last 16 years into Uwazurike's personal use."
IMC knows that MASSOB had collected sums far in excess of these and wishes to let sleeping dogs lie. However, it is alarming that the group used such perilous times to execute the final coup on Uwazurike.
IMC hereby counsels Chief Uwazurike to ask for forgiveness from his lieutenants, make amends and retrace his steps. IMC also calls upon the new MASSOB leader, Madu, to sheath the sword if his former boss shows signs of remorse, and seek acceptable means of resolving the crisis.
IMC had had course in recent past to rehabilitate some ex-MASSOB lieutenants of the struggle because their leaders used and dumped them into lives of suffering and may not continue to render such help again. IMC recognizes that Uwazulike had made costly sacrifices for the Biafran cause but should recognize that others made sacrifices with him too and those must be accorded their respect.
Igbo Mandate Congress finally condemns the embezzlement of over N4Billion Biafran Funds by MASSOB , and decries a situation whereby leaders of the group are living in palatial mansions, while the foot soldiers are abandoned to lives of penury and frustrations.
Rev Obinna Akukwe
Director General, Igbo Mandate Congress IMC
[email protected]