Barring Muslims From Entering America Will Not Stop Terrorism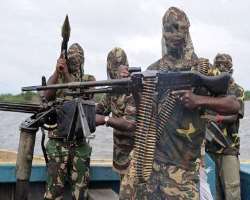 After the San Bernardino terrorist attack that left some people dead, Donald Trump, the republican presidential contestant strongly urged the United States of America leadership to prevent and then Bar any Muslim intending to visit America whether as a tourist, a refuge, a visitor, a migrant or any other category of visitor. His suggestion was condemned by many voices but also accepted by many at the same time. However, he did not establish how barring of Muslims from entering America will stop terrorist attacks around the world.
The facts which trump forgot to recognize are that, America is not the only country that is affected by global terrorism, other countries like Kenya, Nigeria and France have the deep most wounds of terrorist attack. According to Trump it can then be assumed that he is of a position that terrorism is not terrorism until America is affected the same way poverty, Ebola and HIV aids were never issues as long as they are confined to Africa.
This is nationalist consciousness enjoying the diacritics of xenophobia and racism, they should not be allowed to leak into American presidency as they will ultimately misuse religion and race by applying them as platforms on which social exclusion at global level is to be perpetrated.
America will not win war on global terrorism through a single handed approach. Terrorism as waged by Islamic state is a global system, thus for mankind to overcome it, there must be global system and network of counter-terrorism. Poverty, illiteracy and ignorance are the key components that have worked well for Islamic terrorist network; these are the very components that have even converted the Christians, both youths and elders into apparatchiks of Islamic state.
Thus, the starting point is neither to ostracize nor to exclude Muslims from global socialization, but instead it is imperative that America and other developed nations like Germany have to stop economic and social exclusion of the poor societies like those ones from Africa and Asia, instead they should help these poor countries to fight poverty, especially poverty among the youths.
Observation of terrorist tactics points to a connotation that there is thorough and stringent training among the members of terrorist network, strong brainwashing or radicalization, passion building and motivation as well as perfect inter-coordination, but above all else the chief engine of terrorist proliferation is spirit of self-immolation. Sadly, enough, these are the virtues or counter terrorist vices that are heavily lacking in the conventional state organizations.
It is also my assumption that almost all terrorist agents are able to speak English, French, Swahili or Spanish-the world major languages, whereas most of the police forces in the world cannot speak Arabic , this one is only happening to the detriment of the world security governance systems not enjoying good anti-terrorist intelligence.
These are some of the things we can look at as measures of intervention in countermanding terrorism perpetrated by the Islamic state, but not absurd and emotional out-bursts that have been echoed by a selfish politician like Donald Trump.
Alexander Khamala Opicho
Disclaimer:

"The views/contents expressed in this article are the sole responsibility of the author(s) and do not necessarily reflect those of The Nigerian Voice. The Nigerian Voice will not be responsible or liable for any inaccurate or incorrect statements contained in this article."
Articles by Alexander Opicho