Secret Investigators Shock Dasuki and Dokpesi with Evidence of The Arms Deal Money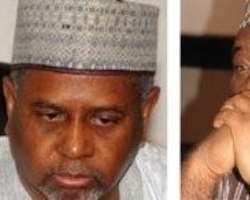 The special team raised by the Chairman of the EFCC to probe the sharing of $2.2 billion arms purchase deal money in the office of the former National Security Adviser have confronted the major suspects in the saga with evidence of their illicit financial transactions.
The 27-member task force, which has EFCC boss, Ibrahim Magu, as member, spent most part of the day to grill the suspects and asked them to speak up on any aspect of the transactions where their names or those who allegedly fronted for them, appeared.
A credible EFCC source said: "Many of the suspects, who were claiming ignorance of collecting huge sums of money from the office of the ex-NSA, were tongue tied when we brought them to face each other."
The extended questioning of the high profile suspects, according to Vanguard, was to prepare the ground for their arraignment this week.
It was gathered that EFCC outsmarted the suspects by securing a court order to detain them beyond the 48-hour threshold, thereby making it more difficult for their lawyers to secure their early release.
A top source said, "I think they will soon appear in court to tell the world why they went to the ONSA to sign and collect huge sums of public money that was not meant for the purposes they were given."
The Presidency has received details of all the "big thieves" who have in the last few days escape from Nigeria and they are tracing them to their destination for possible arrest.