SOCIAL AND ECONOMIC IMPLICATION OF THE CURRENT FUEL SCARCITY IN NIGERIA.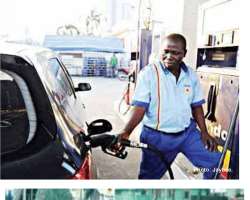 NIGERIA, a frontline member of Organization of Petroleum Exporting Countries(OPEC) with a production capacity of 2.7 million barrels per day, is seen as the largest oil producing country in Africa and the sixth largest oil producing nation in the world
FUEL-SCARCITY 2
Since the discovery and development of petroleum oil exploration in Nigeria, petroleum oil accounts for 14 percent(14%) of the country's gross domestic product(GDP) and it also represents 90 percent(90%) of the country's total export revenue.
Until another source of energy replaces the petroleum oil for driving cars, Nigerians will continue to depend on petrol for their source of energy for home, business or industrial uses. Nigeria the most populous country in the black continent of Africa is presently facing a threat of high oil price and scarcity with all the 36 states in the country facing the hardship.
Osun state amongst other states in Nigeria is hard hit by the current national fuel scarcity experienced by the people in the country. The current fuel shortage in many states across the country has come up with a chain of negative effects with a lot of social and economic implications on the lives, livelihood and wellbeing of the people.
Recently in Ilesa, an embarrassing incident happened that calls for government quick intervention to bring solution to the ugly fuel crisis in the country. We have taken off from the garage in a seven sitter commercial car on our way to Ipetu-Ijesa town on the 1st of December 2015, when at the middle of the 30 kilometre journey, the driver started having problems. At first we thought it was an engine problem.
FUEL-SCARCITY 3
The speed of the car retarded, suddenly the car started jacking. All of us in the vehicle were terrified, "This is a dangerous place," one of the passengers prompted the driver. He how ever felt unconcerned about the sluggish movement of the car. In annoyance the passengers shouted on him, "Oga Driver, what is the problem with your car?"
The vehicle however suddenly stopped in the middle of the high way very close to Erin-Ijesa town. The driver now getting panicky, came out of the car and pushed the car to the road side for safety. He quickly ran to a nearby roadside black market with a 5 litre plastic container to buy petrol which he quickly poured in the car. "How much did you buy it, a curious passenger asked the driver? "It is 400.00 naira per litre," he answered.
The question in the minds of all the passengers was that , if a driver is honest and diligent in his work, why must he come to queue in the garage to pick up passengers for such a long distant journey, when he knew he had not gotten enough fuel for the journey. He begged the passengers for their patience and pleaded, "I bought 1000.00 naira worth of petrol yesterday and did not know it has been used up."
This unfortunate incident shows the bad management and inefficient business attitude of most commercial drivers, which officers of the National Road Transport Workers' Union of each town and state in Nigeria must warn, inform and educate their members on for safety on our roads and to improve the transportation industry in Nigeria.
FUEL-SCARCITY 4
Since petrol stations in Osun State started experiencing irregular supply of fuel a few months ago, many government and privately owned petrol stations in big towns in the state have closed up sale to customers for several weeks now.
When petrol stations eventually get fuel supply from the refineries in Lagos or Porharcourt, many of the government owned petrol stations in cities and towns, sell above the government regulated price of 87 naira per litre, while privately owned petrol stations and black market operators sell at exorbitant high price in the range of between 150 and 200 naira per litre.
Various black markets and syndicate groups now operate and make quick business with the opportunity of the fuel scarcity. Those who can afford the cost particularly people hard press with fuel need willingly patronize them and buy fuel at any price they are offered.
Government owned filling stations which usually sell fuel at cheaper rates of between 100 and 120 naira per litre always attract many customers with long queues of vehicles, motor cycles and people with plastic containers waiting for hours on end to buy petrol. For the private car owners, taxi or bus drivers this warrant leaving the office, trade or jobs to queue up for hours and in some cases it may take the whole day to buy just a few litres of petrol
FUEL-SCARCITY 5
Many businesses that employ the use of petrol operated engines have close up their shops for lack of petrol. And those who find petrol to work, charge high prices for services rendered to the public.
At Atakumosa market in Ilesa Osun State a few weeks ago, a middle aged woman who grinds pepper, opened up to me recently when she finished grinding my pepper and i offered her the usual 50 naira cost. She rejected it and said, "Daddy grinding pepper is now 100 naira, I cannot get petrol to buy and when i am able to buy, the cost is so high, how can we stay on the trade in this way?" With compassion i brought out my wallet and paid 100 naira for the pepper grinded.
Transport fares because of the fuel scarcity and high price per litre of petrol have been increased, the price of food stuffs is increasing and the cost of every economic service is get high.
Taxis, motor bikes and long distant travel fares outside towns and cities within and outside the state have been increased. The activities of the government task force to check fuel hoarding and price hiking above government price is not all that effective.
FUEL-SCARCITY 6
Government effort or force to make petrol stations sell at normal government price, force many petrol stations across the state to close up to customers as they would not want to sell at loss. This however exercibate the fuel crisis for customers particularly when the need is urgent like those on essential government duties or services (Police or hospitals)
Commercial drivers and private car owners prefer to buy fuel in petrol stations where fuel are sold at higher prices to avoid long queues and waste of time.
The scramble of people to buy petrol in bottles or open plastic containers is worrisome to the safety of lives and properties of those who store highly inflammable petrol without appropriate protection in homes, office, shops or stores.
It is getting to Christmas time now and parents are advised to worn their wards and petrol users must be careful , informed and educated on the hazards in the use and storage of petrol.