President Mahama Assures Ghanaians Of Clean Energy At Cop21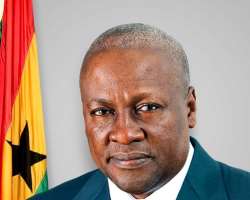 The 21st session of the Conference of Parties to the United Nations Framework Convention on Climate Change (UNFCCC) began from November the 30th to December the 11th, 2015, in France bringing together around 40,000 participants such as delegates representing each country, observers and civil society members. It is the largest diplomatic event ever hosted by France and one of the largest climate conferences ever organized.
The purpose of the 21st conference of parties will be for the first time in over 20 years of UN negotiations to achieve a legally binding and universal agreement on climate with the aim of keeping global warming below 2°C. To achieve this, the future agreement must focus equally on mitigation-that is, efforts to reduce greenhouse gas emissions in order to limit global warming to below 2°C – and societies' adaptation to existing climate changes. These efforts must take into account the needs and capacities of each country. The agreement will enter into force in 2020 and will need to be sustainable to enable long-term change.
The Government of France has invited Heads of State or Government to a Leaders Event at the opening of the conference on Monday, 30th November. Presentation was made by the Heads of States including the Ghana's Head of State, His Excellency John Dramani Mahama. During the President presentation, he made it clear of how the effects of climate change are beginning to manifest in Ghana.
Negative impact such as prolonged drought affecting agricultural production, reduced rainfall volume affecting electricity generation from our major hydro dam on Volta River has made the country to seek thermal generation based on fossil fuels and liquid natural gas.
Ghana has lost 7 million hectares of rain forest over the last half-century and currently have just a little over a million hectares of natural rainforest left. According to FAO 2007, Ghana has one of the highest deforestation rates in Africa and the world, at 2% per annum. Between 1990 and 2000, Ghana lost an average of 135,000 hectares of forest per year amounting to an average deforestation rate of -2%. Between 2000 and 2005, Ghana's forests decreased by a further 115,000 hectares with a rate of forest change of -2% per annum. In total, between 1990 and 2005, Ghana lost 26% of its forest cover per around 1, 931,000 hectares, UNEP, 2008 reported.
As part of climate change mitigation, the government of Ghana made his intention clear to convert more people from the use of fuel wood for cooking and provide them with cooking gas in order to slow the phenomenon of deforestation currently affecting the savannah and Sahelian regions of West Africa at the Leaders Event in COP21 on the 30th of November, 2015 at Le Bourget, Paris- France.
Moreover, he indicated that due to the newly discovered reserves of Gas offshore Ghana, there is the possibility that Ghana will phase out of the use of crude oil and petroleum for the production of energy by the year 2020 and as emerging countries, we must accept while we urge the developed world to turn around and reduce emissions, we must at the same time realize that we also cannot tread on the same path to development.
The President concluded with a powerful statement about Ghana's determination to achieve ambitious cuts in greenhouse gases and seeks an agreement here in Paris that is binding, measurable and respected by all.
Fariya Abubakari is the Climate tracker for adopt a Negotiator program.
Disclaimer:

"The views/contents expressed in this article are the sole responsibility of the author(s) and do not necessarily reflect those of The Nigerian Voice. The Nigerian Voice will not be responsible or liable for any inaccurate or incorrect statements contained in this article."