War Against Crime And Corruption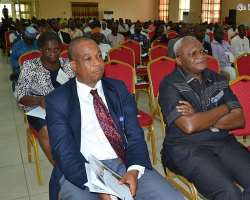 The Anti-Corruption and Transparency Monitoring Unit (ACTU), University of Ilorin chapter has launched a sensitization workshop to fight against crime and corruption in the Nigeria environment. AFIS ODEYEMI (400 Level History, University of Ilorin reports.
This year's Workshop as staged at the Unilorin Multi-Purpose hall is centered on INTEGRITY AND TRANSPARENCY, it is in a bid to reengineer the moral standard of the Nigerian citizens from the corrosive cancer of corruption. The workshop has as its Chairman/Chief Host Professor Abdulganiyu Ambali, the Vice-Chancellor, University of Ilorin (UNILORIN), and Professor A.O Ogunlela, ACTU Chairman, Unilorin as the Host.
The Vice-chancellor heartily welcomed participants to the Workshop particularly the invited guest Lecturers; Mr. B.B Gaji from the Independent Corrupt Practices and Other Related Offences Commission (ICPC) Headquarters, Abuja, the legal luminary, Mr. J.O Baiyeshea (SAN), and Professor M.A Belewu of the Faculty of Agriculture, University of Ilorin.
In a text of address delivered by Professor Abdulganiyu Ambali at the occasion which he titled; 'VANITY UPON VANITY'; the Vice-Chancellor had commended the Unilorin chapter of the Anti-Corruption and Transparency Monitoring Unit (ACTU) for organizing the workshop aim at battling crime and corrupt practices in the country. He pledged to support and create more awareness on the ideals that the Unit champions, and with the very hope that the gains of the workshop will continue to endure among all.
In his words: "I recall that when ACTU organized the presentation of the "Code of Ethics and Corruption Prevention Guide" on August 6, 2013, little did we know that the world was paying attention until Ambassador Walter Carrington came to deliver our 29th Convocation Lecture and made copious references to what we said on the occasion. It was then he charged Nigerians to find a cure to the corrosive cancer called 'CORRUPTION' and today, we thank God that the cure is being found further."
On the fight against corruption and corrupt practices as being witnessed globally, the Vice-Chancellor has said: "We all know what Corruption is; corruption impoverishes the people, compromises the capacity of the State to discharge its responsibilities to the people, and discourages investment in the economy in order to create new wealth and serves to discredit a nation. The summary is that corruption kills and we should all join hands to kill corruption, which is why the current anti-corruption war of the Federal Government is commendable."
The V.C insisted that emphases must be placed on integrity and transparency as a way of realizing that unjust accumulation of wealth is vanity upon vanity. "I want to commend the thoughtfulness behind the theme of the workshop because the bane of development is corruption and corruption thrives only when there is no integrity or transparency. The last presidential election in Nigeria was keenly contested and untold lies were told about President Muhammadu Buhari and the more lies were told about him the more millions of Nigerians supported him because of his rock-solid integrity."
The Vice-Chancellor noted that Nigerians support for President Muhammadu Buhari in the last general election was illustrated by the media during the vicious electioneering campaign which he quoted as saying: "If you like, tell me that Buhari went only to almajiri school, I will still vote for Buhari. Tell me that Buhari never attended any school before, I will still vote for Buhari. Tell me Buhari was actually raised in the bush by wild animals only, I will still vote for Buhari. Tell me Buhari is actually an alien from Mars, I will vote for Buhari. Tell me Buhari is 100 years old, I will still vote for Buhari. Tell me Buhari jailed every single Nigerian that was alive during his tenure, I will still vote for Buhari. Tell me that during Buhari's tenure, people had to apply to Government and get approval before they urinate, defecate, eat or drink, I will still vote for Buhari. Tell me during Buhari's tenure, couples must apply to Government and get approval before they could make love, I will still vote for Buhari…Save your words, save your energy, save your keyboards, save your time, and leave me alone!"
Professor Abdulganiyu Ambali thereby charged participants at the workshop to learn and re-learn from the submission of the invited speakers saying: "As Nigerians, we all know what corruption has done to this country and we are aware that the change that Nigerians voted is actually a change from impunity and the corrupt past. It is therefore necessary that we all stand against corruption, uphold the banner of integrity, transparency and appreciate that life is vanity hence we should do what is right always."
In his goodwill message, Barrister John Olusola Baiyeshea (SAN), the first guest lecturer at the workshop had thanked the gathering for turning out in their large numbers to grace the event, nothing that; usually in Nigeria when talks on integrity, transparency, corruption or issues around this areas is mentioned there is usually a low turn-out of participants. "It is equally very interesting that the University of Ilorin has a group like this on anti-corruption on its campus and this is highly commendable."
Barrister Baiyeshea spoke on the anti-corruption efforts of the Nigerian Government, particularly under former President Olusegun Obasanjo's regime when the two anti-corruption agencies; the Economic and Financial Crimes Commission (EFCC) and the Independent Corrupt Practices and other Related Offences Commission were set up in the year 2003. He said: "The agency under Nuhu Ribadu addressed financial corruption by prosecution and convicting the murder of five corrupt individuals ranging from Nigeria former chief law enforcement officers to federal bank executives and the establishment and vision of the agencies was and is still to re-arrange the system for operating to the best international standard and lead the fight against economic and financial crimes in Nigeria."
Barrister Baiyeshea noted that: "If President Muhammadu Buhari was to hunt down every corrupt official in Nigeria there will be no one left in some ministries. Corruption has become a culture in the country; a way of life. Corruption thrives best in Nigeria than any other place in the world. It is only in Nigeria that people whose personal businesses has collapse are handed the state treasure on a platter of gold to govern, to take charge, thereby given them the opportunity to squander the resources of the nation. Nigeria is the only country in the world where persons accused of corrupt cases and who are in the dock in court for charges of crime are allowed to contest election and then become governors, legislators or persons in authority. Such does not happen anywhere else in the world. In developed nations of the world, a mere indictment on moral misconduct is enough to drive such an individual to oblivion and such persons will never be allowed to dream of any public office let alone allowed to occupy any public office."
The don of Law and Divinity studies referenced verses from the scriptures to drive home his point, saying; God is angry with the wicked every day. "A corrupt person is a wicked man and the wrath of God continues to be on him every day." Barrister John Olusola Baiyeshea thanked the university and organizers of the workshop for allowing a lecture of this sort to come to the fore.
In the Address of the second guest speaker, Mr. B.B Gaji of the (ICPC Headquarters, Abuja), acknowledge the callous presence of Corruption in the country and highlighted some of the challenges faced by various anti-corruption agencies. Mr. Gaji reiterated that: "For the war against corruption to be generally felt in this country, Nigerians must join hands to support the Federal Government's efforts in combating crimes, and report cases of injustices, crime, corruption or any trait of suspicion in their environment." He added that, to completely eradicate corruption from the Nigeria system, every political and social institution must live in fairness, and uphold the banner of integrity and transparency.
Meanwhile, guest lecturer, Professor Mashood Adewale Belewu of the Faculty of Agriculture, University of Ilorin delivered a scholastic lecture at the workshop. A recitation in honor of Professor Belewu; revealed that he had bagged a first class honor degree in Agric Science from India University college, before proceeding to South-western, Nigeria for his Master's and Doctorate degree in Animal Science in 1992. Professor Mashood Adewale Belewu is an alumnus of the University College, Ibadan; now University of Ibadan. He is a member of many organizational bodies and professional academic units both within and without Nigeria and has served various capacities; as Head of Departments, Sub-Dean, Dean and even as Chairman of various committees.
In his August lecture, Professor Belewu had likened corruption to a social, political and economic character; its origin, effect and how to curb it are issues of great concern that attract the attention of national and the international community. The concept of corruption he insisted has not been given much concentration. The aim of his presentation, he insisted, is to keep the general public abreast of the various corruption known techniques for a better free corrupt society. Professor Belewu presented a poem on corruption to the gathering, noting that: "Corruption is a social enemy, a life destroyer, a friend of political instability and a vehicle of economic backwardness." He added that, while there is no universal definition for corruption, corruption is a social, political and economic mismanagement; it is a dishonesty of a legal conduct, especially by the mighty in a society. It is an inducement to wrong and allure to improper needs.
Present at the workshop were Former Vice-chancellor of Fountain University, Professor O.B Oloyede, a man known as the author of the 'Better By Far' slogan, Professor Olorunfemi, the Rector, Federal Polytechnic, Offa, Rector University of Ilorin Teacher Hospital, the University principal officers, Academic and non-academic staff and students of the University of Ilorin.
-AFIS OLAWALE ODDEYEMI, Reports from Unilorin
Disclaimer:

"The views/contents expressed in this article are the sole responsibility of the author(s) and do not necessarily reflect those of The Nigerian Voice. The Nigerian Voice will not be responsible or liable for any inaccurate or incorrect statements contained in this article."