Alaafin of Oyo, Wives Train in London with Boxer Larry (Photos)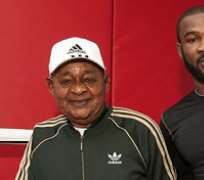 Alaafin of Oyo Empire, his imperial Majesty Oba Lamidi Olayiwola Adeyemi the third, took time out his hectic schedule whilst in London to attend Larry Ekundayo's training session with his wives. Oba Lamidi showed off his prowess and got into the ring with the African Boxing Union welterweight champion Larry.
Larry Ekundayo, also known as Larry the natural is a Nigerian who grew up in Lagos. He took up boxing like every other child to defend himself from older children and bullies. He had an amateur background, having 125 amateur fights and winning 110 of them.
As a professional boxer, he is the current BetFair Light Middle Prizefighter champion and undefeated in six pro fights with two stoppages to his name. He is a uniquely gifted welterweight possessing a breath-taking range of offensive and defensive skills that leaves his opponent dazzled and spectators on the edge of their seat.
The Alaafin who is one of Africa's most powerful and influential kings, trained and fought as a boxer before his accession to the throne of his forefathers. In recollection of his long career in boxing, Oba Lamidi went with his wives to have a training session with Larry the natural who gave Alaafin his belts.
Larry is an undefeated Prizefighter winner and International Masters Titlist, the most avoided man in the division and a boxing genius whose ability is matched only by his resolve to become British, Commonwealth and World champion.