ENDS With NEMA Distribute Over 8000 Pieces Of Clothes To IDPs In Borno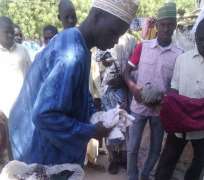 The Every Nigerian Do Something, ENDS philanthropic organization last week distributed thousands of pieces of clothes to IDPs in camps in Borno.
Along with NEMA officials and working with United Nations foundations, ENDS made its second batch successful delivery of thousands of clothing items so far gathered and being gathered across the nation and world in the #IDPClothesDrive .
The distribution headed by Ali Usman took place at NYSC IDP camp in Borno, and NEMA officials and other volunteers helped in giving anxious displaced persons various items of clothing, accessories and other materials.
While the the global used clothes, bedding materials, baby and lady items, school bags, general bags and as we put it, "all the good stuff you do not need," is still ongoing and while thanking Nigerians for their extreme generosity with so many donors, some who donate as good as new and new items yet ask not to have their names mentioned, ENDS Drive global coordinator, Mr Baba Aliko is asking for your sweaters and blankets at this time.
The cold season is upon them in Borno and global Drive coordinator, Baba Aliko says that along with other stuff, adults and children especially need to be kept warm, more so in the flimsy tents they reside. We have over 2000 pieces of baby items, but remember, as many as 60,000 babies were born in IDP camps this year alone. Add that to all the children, the numbers are staggering. We need your continued support.
While we solicit your assistance with transporting truck loads we have in Nigeria's south, Lagos and other states.
Please contact Baba Aliko +234-80123085907; Mohammed Keana +234-8060029996 and others listed on ENDS #IDPClothesDrive for donation support.
We thank an endless list of extraordinary ENDS members and friends, Freedom Fm Kano, PEDS (Partnership in Entrepreneurship Development Services) Gombe, De Choice cleaners Festac link bridge rd, Amuwo Adofin, Lagos and other organisations and individuals too many to mention that have contributed i so many ways to make this possible, and Nigerians and friends for answering a call of a people in need and indeed a call of God.
Dr. Peregrino Brimah; http://ENDS.ng [Every Nigerian Do Something] Email: [email protected] Twitter: @EveryNigerian
IMG-20151123-WA0003
IMG-20151123-WA0004
IMG-20151123-WA0005
IMG-20151123-WA0006
IMG-20151123-WA0007
IMG-20151123-WA0008
IMG-20151123-WA0010
IMG-20151123-WA0013
IMG-20151123-WA0014
IMG-20151123-WA0015
IMG-20151123-WA0016
Disclaimer:

"The views/contents expressed in this article are the sole responsibility of

Perry Brimah, Dr.

and do not necessarily reflect those of The Nigerian Voice. The Nigerian Voice will not be responsible or liable for any inaccurate or incorrect statements contained in this article."
Articles by Perry Brimah, Dr.