See How Uche Jombo Celebrated Son's 6 Months Birthday (Photos)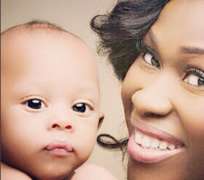 Just like other proud mothers who are always excited to see their children grow, Uche Jombo decided to celebrate her son, Matthew's sixth month birthday in the very cute way.
The actress who is currently with her family in America shared the good news of her baby's sixth month day.
"Guess who's 6 months, to celebrate that, I decided this embarrassing mummy and me outfit picture will do," she captioned their adorable selfie.
Recall that in October, she officially introduced her son to the world and described him as "The only one who knows my heartbeat from the inside", and every passing day, the new mum never fails to celebrate her miracle of a son, Matthew Chinedu Rodriguez.