Man Shot Dead Leading Cops To Kidnappers Den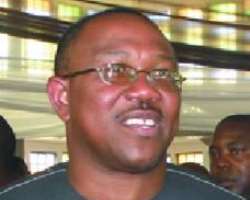 It may be described as a patriotic act, but if Mr John Nwandu, better known as Okibe, a civil servant with the ministry of women affairs knew his seeming heroic act would led to his untimely death, may be he would have had a rethink.
Trouble started for the 43 years old father of three children when some unidentified men swooped on him while driving with his friends in a car whose make our correspondent could not make out, when he was kidnapped.
The kidnappers who did not know that they have seized the wrong person took him to their hide out some where in a bush in Idenmili North Local Government area. On discovering that he was not the man they were gunning for, he was said to have been freed.
Our source who narrated the tale to Ukpakareports.com said that "Okibe could not have been the targeted victim, considering the kind of money these kidnappers always demanded. He was only a civil servant, even though he was not a junior staff at the women affairs ministry. The target may either have had the same physical appearance as Okibe, of their cars looked alike to warrant his being mistaken by them.
Okibe who was freed before his friend with whom he rode in the car before he was taken captive unknown to him was latter freed after he too was screened and found not to be the target, but unknown to Okibe, he ran to the Special Anti Robbery Squad SARS head office at Awkuzu after his return to lodge a complaint that his friend was still being held by kidnappers in a bush.
Being obliged by the men of the SARS, he was given an undisclosed number of men to take to the hideout of the kidnappers to rescue his friend, but that was the last brave attempt Okibe would ever make on earth.
Our source went further saying, "when the kidnappers was him from a afar leading the police men to them, they felt infuriated that he had the clout to lead the police to their den after the successfully freed him on noticing that he was not their target. This caused the men to ambush Okibe and the police officers, shooting sporadically at them, and Okibe was one of those caught in the cross fire that ensued."
It was latter found out however that Okibe's friend had been released shortly after he regained his freedom as he his friend) had ran home staright only to hear latter of Okibe's death. Okibe has however been laid to rest yesterday at his Oraukwu village in Idenmili North area of Anambra state.
|
Article source