ECUADOREAN THREAT TO OIL GIANTS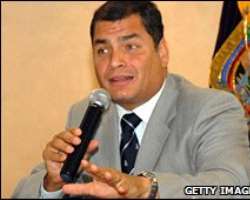 The Ecuadorean government has threatened to take over foreign oil concessions if the companies resist growing state control of the industry.
President Rafael Correa said every day millions of dollars were going to oil companies that should go to the state.
The government has been pressing the companies to give up concessions that give them a share of oil field profits and accept service contracts instead.
Oil firms operating in Ecuador come from Spain, Brazil, China and Italy.
'Serious action'
President Correa said during a televised address on Saturday: "Every day that passes there are millions of dollars going to these companies that should be going to the Ecuadorean state.
"I'm out of patience. We are sending a bill to Congress that would allow for the expropriation of oil fields should the companies not want to sign the new contracts.
"The oil companies are playing with us. In the coming weeks there are going to be very considerable actions. I have no regard for these companies, which have abused our country."
Foreign oil companies operating in Ecuador currently include Chinese-owned Andes Petroleum, Brazil's oil giant Petrobras and Repsol-YPF, dominated by Spanish and Argentine capital.
In 2008, Mr Correa defaulted on $3.2bn (£2bn) of foreign debt he described as "illegitimate", calling the international lenders "monsters".
Ecuador is Latin America's fifth-biggest oil producer but World Bank estimates show that some 56% of the country's 13.4 million people live in poverty.
That figure rises to more than 80% for indigenous Ecuadoreans, who are mainly small farmers in mountainous highlands.