LANDMARK PRESIDENTIAL VOTE IN NORTH CYPRUS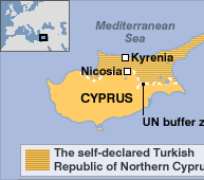 Polls have opened for presidential elections in Northern Cyprus that may have a major impact on the chances of reuniting the Mediterranean island.
The frontrunners are the incumbent, Mehmet Ali Talat, and the Turkish Cypriot prime minister, Dervis Eroglu.
Mr Talat favours reunification and closer ties with Europe while Mr Eroglu is a nationalist, who supports a two-state solution.
Cyprus has been divided since 1974 after Turkish troops invaded.
When Turkish Cypriots voted Mr Talat into office they hoped he would unite Cyprus and thus bring to an end decades of international isolation imposed on the unrecognised Turkish Republic in the north of the island, the BBC's Tabitha Morgan reports from Nicosia.
But despite years of negotiations with the Greek Cypriot leadership, he has not been able to deliver on his promises, she says.
Disappointed and frustrated
Cyprus remains divided and the north's hopes for trade links with Europe have been frustrated, our correspondent says.
Turkish Cypriots are disappointed and, according to one analyst, they "want to punish Mr Talat" for his failure to reunite Cyprus.
Opinion polls suggest that the beneficiary of Turkish Cypriot disillusionment is likely to be veteran right-winger, Dervis Eroglu.
He rejects the united, federal solution, endorsed by the international community and instead wants one based on two loosely connected sovereign states.
An Eroglu victory would therefore make it unlikely that the Cyprus problem could be solved in the near future, thus complicating Turkey's path towards EU membership, our correspondent says.
Cyprus has been divided since 1974, when Turkish troops invaded in response to a military coup backed by the junta ruling Greece at the time. The breakaway north is not recognised internationally.