MILITANTS GUARD IBORI, EFCC AGENTS STORM DELTA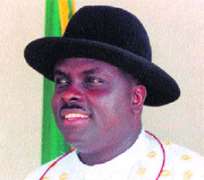 Ibori
Embattled former governor of Delta State, James Ibori, has allegedly relocated to the creeks of the Niger Delta to avoid being arrested by the Economic and Financial Crimes Commission (EFCC).
He has reportedly sought protection from some militants in the region to stave off the manhunt for him by the EFCC.
The anti-graft body on Wednesday declared Ibori wanted over an alleged N44 billion fraud involving the shares of a mobile telecommunication outfit.
But it turned out that the commission's letter dated March 22, 2010 invited the former governor for interrogation on April 17, five clear days ahead of when he was declared wanted.
As a breather, the ex-governor at the weekend sought further reprieve from the Federal High Court, Asaba, where he filed a N10billion suit challenging the anti-graft agency's declaration, claiming libel and defamation.
Regardless, an EFCC source confided in Sunday Sun that the Commission has petitioned the Chief Justice of Nigeria (CJN) against Justice I.N Buba of the Asaba Federal High Court, who gave the restraining order not to arrest the former Delta governor.
The EFCC said it would not obey the order because it has a subsisting bench warrant against Ibori and wondered why the court gave a contrasting order from that of a court with coordinate jurisdiction.
The Commission noted that the same judge was responsible for the perpetual injunction granted former Rivers State Governor, Dr Peter Odili, which has been difficult to vacate.
Apparently sticking to its guns, the Commission claimed Ibori had gone into hiding and asked the former governor to come out.
The EFCC source said a scared Ibori was now 'shuttling between his native Oghara and the creeks (of the Niger Delta) heavily guarded by militants.' Undeterred by Ibori's purported hide-and-seek tactics, the commission has deployed over 50 of its specially trained operatives to the Niger Delta.
According to our source, 'it is just a matter of time before we arrest him' even as he rubbished allegations that the anti-graft body went after Ibori five days before his appointment was due.
'What he is overlooking is that we have secured a bench warrant against him since March (2010). So, all those noise about us acting hastily is rubbish. It won't jell with us because no one will tell us not to go after him. Not even the court ruling because we have a subsisting order to arrest him and that is our grouse with the Judge. Why does he always want to stop us from doing our job?
'We have always been accused of not doing enough. But this is another example of people using the courts to stop us. We would not allow it because we are on a good ground here and we will go after him even in the creeks. It is just a matter of time. We will arrest him because our men are on the ground and we are gathering information on him every day from both the native and even some militants.'
The source, who expressed regrets that Ibori escaped from its net in Lagos, further revealed: 'We would have arrested him three weeks ago but when we got to his home on Victoria Island, about 20 heavily armed policemen were there guarding the man and to avoid any crossfire or shoot-out we decided to let him be. But I can assure you that we will arrest him and bring him to book. This is a man that is anted in Europe and the United States. He cannot hide for ever.'Another source also informed that the Commission has taken some of those to be used as witnesses against Ibori in the case into protective custody.