WHY I ABANDONED THEATRE ARTS FOR FASHION DESIGN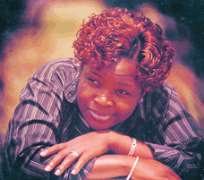 Osuji
No doubt the Nigerian fashion industry has come of age and can also compete favourably with its counterpart anywhere in the world. In terms of creative ingenuity, passion, dedication and output, it has scored well above average and still growing in leaps and bounds, discovering new frontiers in the fashion world.
Among many Nigerians who are making giant strides in this circuit is Cecilia Osuji whose unique styles have endeared many to her outfit.
The CEO, Cecil Designs makes clothes for haute couture and ready to wear, specializing in menswear, female traditional outfits, leisure wears, beach wears and wedding outfits.
In this interview with Saturday Sun , she traced her involvement in fashion as a mere hobby.
'When I was a little kid. I liked dressing up. I liked everything that has to do with fashion and it followed me up to a tertiary institution. I studied Theatre Arts and majored in costuming and make-up. So, after my youth service, I decided to go into fashion and the rest as it is always said, is history.'
And she relives her experiences in the business.
' It has been fine and the experience is not bad at all. We have customers from all over the country and abroad. People like our designs and when they come around, they would drop their materials and say, please give me a design, I don't want to choose a style and we always deliver. It has been a pleasant experience and I think it's nice so far.'
Osuji, who is known for sophisticated styles with bias for ankara fabric, revealed that sourcing for materials is not a difficult one because of her passion for Nigerian materials especially ankara that has African design.
Every business venture has its own peculiar challenge and in her words, the challenge she is facing as a fashion icon is trying to meet up with customers desire.
' When they come, drop their clothes, they would expect the best and you know we Nigerian ladies are very fashionable. Every Nigerian woman would want to wear something nice that when people see her, they must complement. The challenge of meeting up to their taste is a hard one. And that is where your creative impulse comes in. You just have to think of something beautiful and alluring that would not only suit your client but also attract others to you. But all the same, we have been trying our best and we have been satisfying them. And mind you, our services are not too expensive but affordable. Once you come in here and you want something nice, we will always serve you.'
To herald her arrival into the fashion industry, she organized a grand fashion show in 2008 at XQZMOI in highbrow Victoria Island where celebrities and musicians like D'banj, Faze, Ego, Julius Agwu, among others graced the occasion.
She, however, revealed that she is planning for the next fashion show later in the year.
On her impression about the Nigerian fashion world, she has this to say.
'The fashion industry is growing everyday. We have a lot of good Nigerian designers who are making us proud with their works both home and abroad. Everyone is working tirelessly to meet up with the vogue in town. The pace has increased and we are also working to meet up with the time and demand. It has improved tremendously and we thrive to improve in our designs.'
Aside the art of making good dresses, Osuji, who has a knack for details, is also into buying and selling. 'We sell ladies' wears, London and American suites, shoes, children's shoes, bangles, make-up, jewellery.'
To get closer to her numerous customers, and assist the underprivileged in her own way, Osuji is making efforts in expanding her frontiers to other parts of the federation and beyond.
'We've planned to have outlets in other areas of the country and even abroad. We have thought of having a bigger place where we can train people, free of charge, especially the underprivileged ones, the women especially, so that they can be useful to themselves and the society at large. It has been our dream and with the help of God, we will fulfill it.'
The Imo State-born designer, however, advises that to make it in the industry, a green horn is expected to 'be hardworking and believe in what they can do with their hands. I believe that everyone has a unique talent. They should discover their talents and work very hard to develop it. Stay away from copying other people have done but come out original.'