YAR'ADUA EITHER DEAD OR IN BAD SHAPE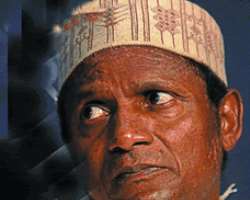 President Yar'Adua
Dr. Segun Ogundimu, a renowned physician was Commissioner for Health under the Colonel Olagunsoye Oyinlola Administration in Lagos State.
In this interview with Saturday Sun , he argued that there is an urgent need for the National Assembly to impeach Umaru Musa Yar'Adua. In his view, it has become expedient for acting president Goodluck Jonathan to succeed in his current assignment.
He also spokes on the National Advisory Committee put together by Acting President Jonathan.
There were calls for the National Assembly to impeach president Yar'Adua, what is your position?
My position is the position of the constitution. Anybody can fall ill. That is why the constitutional provision is there. In case of medical treatment, it is for the president to write to the National Assembly, so that the vice president can take over. That was not done. The National Assembly ought to have cautioned the president.
Thy even summoned the SGF who said one character called Aji was to have delivered the letter. These are just stories. We are all Nigerians. The constitution is there to guide all of us. But they allowed the system to become heated up, up to the point that they do something politically expedient by bringing Jonathan in as acting president.
I feel so embarrassed now that we are still discussing whether or not to impeach Yar'Adua. The Muslims would say Ina Wahi Rajiuna. It means from him we come and to him we shall return. If this man has died, why cannot tell us the truth? What we are even hearing now is that there was nothing in the ambulance that was said to have brought Yar'Adua into the country. Even summoning soldiers to guard the airport without informing Jonathan is a slap on the face of all Nigerians and there is only one person behind all these, Turai, the wife of the president. This woman today is holding all strata of Nigerians to ransom and they are still acting the script.
Are you saying the swearing-in of an acting president has not doused the tension in the country?
They know what they are doing by using the word 'acting president' and we Nigerians know that we all own this entity called Nigeria. They keep playing pranks that the man is coming today, is coming tomorrow. We even sent an official delegation from Nigeria to thank the Saudi monarch over Yar'Adua. They did not allow them to see Yar'Adua and it points to one thing: either the man is so incapacitated due to Chaux Strauss Syndrome in which case, he will be an ugly sight to see. The alternative is that the man is dead and buried in Saudi Arabia They should by now know that if their intention is to corner the sixteen oil blocs allocated to the Chinese, the plan has failed. The game is up. Nobody can sign the papers for those Chinese except Jonathan.
There is the opinion that the National Assembly ought to have insisted on knowing true state of Yar'Adua's health?
From the razzmatazz they are doing, it is either Yar'Adua cannot be seen or dead. In whatever state he is, he is still my president and I want to see him. I am a consultant physician, and I have seen cases worse than Yar'Adua. Look at the case of the Prime Minister of Israel, he has been in coma in the last three years. It is not a secret. Even the president of Egypt recently went for a surgery. So, Nigeria's case is very irritating.
What lessons for Nigeria in your own opinion?
The lesson particularly for our lawmakers is to ensure that they look at the constitution all over again because we know that the constitution is far from perfect. We must therefore take the constitution reform very seriously. This idea of north/south dichotomy should be yanked off because if it is still there, it will continue to hinder development. Secondly, this issue of First Lady should be looked at. Look at how it has turned our body polity upside down. Look at how the current First Lady has been behaving. It is most unfortunate.
Given the current scenario, how far do you think Jonathan can go?
There is no hiding the fact that Yar'Adua committed an impeachable offence for staying outside Nigeria unofficially for about 100 days. One of the closest persons to the president, Governor Bukola Saraki, was in Saudi Arabia. They did not allow him to see the man. I am therefore of the opinion that Jonathan should be made full president to enable him perform well.
What do you think of the governors' forum, which is backing Yar'Adua as president?
My position is that they are talking from both sides of the mouth; they are not sincere with themselves. They should be aware that it is either the man is dead or in a very precarious situation. They are just using some delay tactics to hold the country to ransom and it is not fair. Posterity will not forgive them. I challenge them to bring Yar'Adua out. Let Turai produce him within 48 hours. Personally speaking, I believe that man is dead. That's my opinion.
What is your take on the Advisory Council set up by the acting president?
You know Nigerians will always express their opinion. To me, it is a step in the right direction. Remember, these are people that are upright. Theophilus Danjuma and Fola Adeola will give him good advice. It's a step in the right direction.
Disclaimer:

"The views/contents expressed in this article are the sole responsibility of the author(s) and do not necessarily reflect those of The Nigerian Voice. The Nigerian Voice will not be responsible or liable for any inaccurate or incorrect statements contained in this article."