INCREDIBLE LIVES OF EX-BEAUTY QUEENS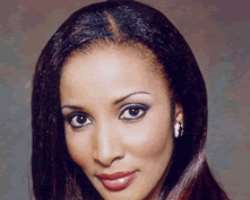 Bianca
The defunct Daily Times of Nigeria pioneered beauty pageantry in Nigeria. It was the Miss Nigeria Beauty Pageant. The essence was to showcase the values of the African woman, making her the nation's ambassador, using beauty as a platform.
One or two editions had been held before Nigeria gained independence. Although, it didn't enjoy much media blitz and publicity, as is recorded today, it was credible and quite glamorous. Winners of this pageant, at that time, ranked as much as any Nigerian ambassador to any country, to say the least. The title had phenomenal acclaim. The queen was an epitome of respect.
Former Miss Anieze, now Mrs. Anieze Adams, who won Miss Nigeria title in 1960, making her Miss Independence, still remains one of the most publicized queens Nigeria has ever produced. She was from Onicha Olona, in Aniocha North Local Government in present Delta State.
The Daily Times monopoly of the pageantry firmament came to an end when Ben Murray Bruce introduced the Most Beautiful Girl in Nigeria in 1988. It would become the first private beauty pageant in the country. This initiative ran side by side the Miss Nigeria outfit.
The beauty of these two pageants was that contestants enjoyed the liberty to run at both competitions. A failed attempt at the Miss Nigeria pageant would not disqualify a contestant at the MBGN. Such was the freedom many girls explored. Apart from this, desperate contestants were also qualified to enter as many times as possible, provided they met the entry qualifications.
The scenario led to a rehash of same faces participating in both. It was not pleasing to watchers, who expressed their anger in criticisms. It actually bored and eroded their interest seeing the same faces at the events.
The Ben Bruce in-road was just the beginning, as more organisers later sprang up. But not many of them made it after their debut. This era ushered in the Lux Beauty pageant. Its lifespan didn't stretch beyond two editions. Ibidun Ajayi, (Mrs. Itua Ighodalo) was the Lux maiden queen. As some of the outfits hanged on for a few years, others were aborted before the scheduled date of the event. Before long con men and dupes cashed on the explosion of pageants to do their thing. That also served as platform for pageant organisers to introduce many angles that were below and beyond the limits of fair pageants and contests. That was the floodgate to fraud and unfulfilled promises to participants, who, most times, never got the goodies they were promised. Instead of riding in cars, as announced at the crowing of the queens, some move around town in taxi cabs. In some instances, the queens struggle to catch commercial buses in Lagos and lived in dingy and unimaginable neighbourhoods. TV big lifestyle took over from reality.
As the queens smiled broadly on TV before cameras, depicting and exuding opulence, they languished in poverty and suffered victimization in real life.
Many of the pageants were marred by controversies. Accusations and counter accusations flew everywhere, both before and after the events. Accusation of favouritism on particular contestants, financial recklessness from sponsors and outright diversion of gifts and sundry items meant for the participants were common stories.
In some instances, some organizers were alleged to have denied winners the car prize. Instances of acclaimed winners having to wait for as long as possible before getting their prizes were common while some never got them. Stories of beauty queens who had to employ the services of commercial taxis for official engagements were regular headlines in the media.
But all these were never enough deterrent to ladies who remained resolute in contesting because they either didn't know these details or were so blinded by passion for the fame to ignore the pitfalls.
In 1997, an international modelling agency, led by a South African, Jan Malan, would change the history of beauty pageants in Nigeria. MNet Face of Africa was born. While the screening witnessed a tumultuous crowd, only one girl would be the ultimate winner. At last Oluchi Onwewagba, a Nigerian became that African face.
Shortly after, she shot into limelight at the maiden edition of MNet Face of Africa, Agbani Darego shattered the world record by becoming the first African to win the Miss World title in 2001.
Then, the intensity, craze and desperation heightened. These two ladies, who became instant hits and international figures, were also role models of some sort for other ladies aspiring to walk the aisles of beauty parade. Many followed their lifestyles. To this end, the hairstyle Agbani won the contest with became the rave of the moment. Not many Nigerian girls aspired to do any other thing aside from walking the runway. This platform seemingly became the easiest means of escaping poverty. The lure of fame, fortune and glamour - the visible perks that come with becoming beauty queens - are not unconnected with this desperation. Many undergraduates only wanted to use the university platform to explore opportunities of realizing beauty queen their goals.
Some girls were alleged to have participated in different beauty pageants more than once, while others traded in their studies or exchanged their womanhood in order to realize the ambition.
In many instances, some prospective contestants also doctored and falsified their ages, so as to fit into the age bracket, while others were alleged to have become mothers before enrolling.
Because the gains of becoming a queen is much, many young ladies are unaware of the other side of the coin. They go on stumbling on the stones that litter the road to the beauty crown.
Unfortunately, many of these beauty queens have not only followed fame blindly but also continued to wallow in vain lifestyles.
While some manage to remain relevant and sustain the glitz and glamour of the positions, others just vanish into oblivion immediately after their reign. Part of their obsession for vanity often leads to a situation where they can't readily start normal life after their tenure. Many have had their academic ambitions truncated because they just can't go back to school afterwards.
The unexpected and sudden change in status had misled many of them. They live in fantasy and sheer make-believe. They never think that the party would ever end. The few that manage to return to school end up having to change courses, owing to their inability to cope with their initial courses. Cases of many completely not knowing what to do after their romance with media blitz abound. In which case, they would simply engage in inanities. Their relevance is only noticed in social circles. They honour social engagements endlessly. Avante garde fashion and high profile gigs remain their lot.
Because they have been totally carried away in their fame, some would just forget where they come from. They are bereft of business ideas. Where a few manage to develop a business initiative, they often close down as soon as they take off. In which case, they engage in inanities.
Marriage is not very commonly seen in the priority list of many Nigeria's beauty queens. Where marriage is possible at all, they end up playing second fiddle. Most often than not, becoming 'visible spare parts' for highly placed men in the society are their regular beats.
The peak of these frustrations has led quite a number to seek refuge in alcohol. Of common knowledge was a former beauty queen, who reigned in the early'90s, that after relinquishing her crown settled as a civil partner with a prominent musician with base in Lagos. Having spent much of her youth idling away in the comfort of a man who had no plans of walking down the aisle, just for the joy of media limelight, she would later realize her folly and quickly jumped out of the sinking boat with practically nothing to show for the long years of cohabitation. But it was clearly a case of 'too late for mama.'
Back to the common man's zone and heavily burdened by huge family responsibilities, with no finance anywhere, she took a deep plunge into alcohol and smoking. At the height of her travails, the fair-complexioned gal attempted suicide once.
However, mother luck remembered her when an ailing old rich man sought romance with her. The fruit of the affair is a baby. The old man died years ago. Such are the hidden pains and vain lifestyle of these celebrities
Controversies
Just like it is common in beauty pageants all over the world, Nigeria is not an exception. Endless controversy trailed the local pageants. While some of the people involved denied, others simply kept sealed lips.
In 2009, Joan Okorodudu, a famous high flier and acclaimed business woman, was embroiled in a beauty pageant scam. She was alleged to have cornered the juicy gift items meant for winners in her modelling contest. Sponsors and contestants had accused her to no end of underhand game. The news spread in town, just as it broke and the media was agog with the dirty details. The case is in court.
In 1959, a non-Nigerian had contested and won the Miss Nigeria contest. She was Cameroonian, Nene Etule. She was deemed eligible to take part then, as the Southern Cameroon was part of Nigeria in the '50s.
The very first Miss Nigeria to take part in Miss Universe competition was Edna Park in 1964. Three years later, Rosaline Balogun became the first official Miss Nigeria at Miss World.
In 1977, it was discovered that Toyin Monney had not only lied about her age, but also about her secret child. Although she was not dethroned, it led to her downfall as Miss Nigeria. She was disqualified from representing Nigeria at Miss World.
In 1985, during the talent stage, Barbara Ana, who had won Miss Nigeria, eastern zone, breached protocol by preaching against the growing trend of 'Sugar daddies.' In an interview later, Ana claimed that her outspokenness had cost her the crown.
In 1990, Binta Sukai became the first Miss Nigeria from northern Nigeria. She attracted a lot of criticism from the public after it was rumoured that she was not actually a Nigerian. It was later revealed that she was one-quarter Scottish.
Miss Nigeria, 1994, Clara Ojo held the title for four years. No contest was held until 1998.
In 2001, first runner-up, Amina Ekpo, was crowned Miss Nigeria after the reigning queen, Valerie Ama Peterside, was stripped of her title for lying about her age and forging her qualifications. Peterside, who had competed the previous year, fought to keep the crown, but was eventually dethroned.
Following the success of Agbani Darego in Miss World in 2001, Daily Times sued Silverbird Entertainment, claiming that only Miss Nigeria had the right to represent the country at international level and use the name. That year's Most Beautiful Girl in Nigeria bore the title 'Miss Nigeria'
Nudity and conflicts
The swimsuit parade was regarded as a form of nudity. Although, Miss Nigeria was praised for judging contestants according to Nigerian standards of beauty, others argue that Miss Nigeria was more Western than African, and did not fully represent Nigerian culture. Bikinis were banned from the live pageant shows of the Miss Nigeria pageants, so as to 'restore the pageant's dignity.' Instead, maillot swimsuits were worn
Ex-Miss Nigeria, Vien Tetsola, was, at a time, enmeshed in a controversy over her alleged affair with dashing man of God, Pastor Chris Okotie. In 1963, Gina Onyejiaka paid her way to take part in Miss World pageant, after the country failed to send Alice Aleebe.
In 1966, Miss World organisers disqualified mother-of-two, Uzor Okafor, as she was not the official Miss Nigeria. In 2001, when Agbani Darego won the Miss World title in South Africa, her reign, as MBGN, was transferred Ann Suinner.
A week before the 2002 pageant, violence erupted in Kaduna after protests against the competition inflamed simmering religious tension between Muslims and Christians. The 2002 Miss World competition was moved from Nigeria to the United Kingdom.
In 2006, a catwalk model, suspected to be Agbani Darego, posed topless at a fashion show causing outrage in Nigeria. Darego has made no comments about it up till date.
Toyin Raji
In 1995, Raji was crowned Most Beautiful Girl in Nigeria. But she was prevented from participating in the Miss World title that year following political controversy over Sani Abacha's decision to execute Ken Saro-Wiwa and the others. Raji lives with her daughter in Houston, Texas today.
Bianca Ojukwu
Bianca Odumegwu-Ojukwu (better known to most Nigerians as Bianca Onoh) cannot be forgotten in a hurry. She won the Most Beautiful Girl in Nigeria pageant in 1988. The annual event did not hold in 1989 because the 1988 Queen, Bianca Ojukwu, nee Onoh, stepped aside. The first runner-up, Regina Askia, took her place, reigning through the next year.
Bianca's decision to hand over was unconnected with her relationship and eventual marriage to the Biafran warlord, Chukwuemeka Odumegu Ojukwu, who is far older. During her reign, it was discovered that the two were romantically involved. Beauty queens are discouraged from romantic liaisons during their tenures. Bianca became embroiled in that controversy
Bianca, who runs a successful cosmetics company in Enugu, where she resides with Ojukwu and their twins, remains, the first Nigerian beauty queen with the shortest reign.
Beauty without brains
Critics describe beauty pageants in Nigeria as a parade of 'beauty with no brains.' In 1991, an English Literature undergraduate of the University of Ibadan, Ibinabo Fiberesima, lost out to Bibiana Ohio after she was unable to name the vice chancellor of the institution she attended.
To buttress this point, even Miss Onanuga, former Miss Nigeria beauty pageant manager, who had started up her own pageant after she left the Miss Nigeria team, had, in an interview later on, said these arguments on Nigerian beauty pageants.
She said: 'We are tired of seeing girls on stage after spending two weeks in camp and having much fun. All we see is that they ask them questions and they answer and win. Two months after, when somebody asks them the same question, they cannot answer and people would begin to ask, where did she get the crown from?'
Despite being the favourite to win, Miss Nigeria 2002, Sylvia Edem attracted further media attention when it was rumoured she had forged her age to compete, like Valerie Ama Peterside before her. She was said to be about 30 years old when she contested.
Until the mid '80s, most of the Miss Nigeria pageant winners were light-skinned and this heightened the 'Black is Beautiful' outcry. However, in 1987, Stella Okoye, was crowned, thus breaking a long line of light-skinned winners.
The very first woman to bear the title 'Miss Nigeria,' Julie Coker, did not actually participate in Miss Nigeria – it had not started then. She had been crowned Miss Western Nigeria (aka Miss West). Coker, who went on to become the first Nigerian female newsreader on TV, was chosen to take part in Miss World in the early 50s, and from then on was occasionally referred to as 'Miss Nigeria.'